Planning a Round the World Trip After You Retire
There are lots of ways to see the world, you can go on a cruise, pick locations you have always wanted to visit, or go and see the Seven Wonders of the World. But you may have already been there and done that.
Now that you have the time to spend pursuing what really matters in life, you may want to do something a little different. Why not add some adventure and luxury into your world trip by taking a tour of the most beautiful hotels in the world?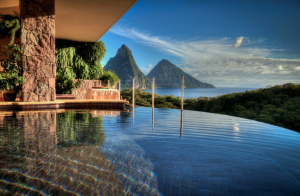 Below we have some suggestions of the most unique and picturesque hotels around the world.
Reethi Rah
Have you ever wanted to get away from it all, from noise, overcrowded beaches, and tourist filled hotels? If you have, the One&Only Reethi Rah in the Maldives is for you. This resort villa is the epitome of luxury, and provides you with complete privacy. There are 130 private villas individually separated along the islands shore. You can choose from a water villa or a beach villa, where you can relax in the warm clear water, walk along the soft white sand beaches, and enjoy a cocktail in your own private bar. This is a literal paradise where you can enjoy true peace and quiet.
Hotel Villa Honegg
The Hotel Villa Honegg is an exclusive 5-star hotel located on the scenic Mount Bürgenstock in Switzerland. You have an outstanding view of rolling hills, forests, Lake Lucerne, and mountains that reach the clouds. As well as having lavish rooms, this villa has a private cinema, a fully equipped spa, and an a la carte restaurant. Even though this is a beautiful location during summer, we would recommend visiting during winter, as the view covered in snow is simply breath taking. Plus it's a great time to take advantage of the heated outdoor infinity pool.
Ubud Hanging Gardens
If you are looking for peace and tranquillity, why not relax in the heart of Bali amongst volcanoes and rice terraces? The Ubud Hanging Gardens in Bali have fantastic infinity pools situated above a rain forest. There are a variety of amenities to take advantage of, including ornate gardens with cocoa and coffee trees and orchids, as well as a spa to rejuvenate the body and mind. In order to make this a trip to remember, make your way to the villa via the Orient Express.
Jade Mountain
If you want to spend some quality time with your spouse, visit Jade Mountain, the most beautiful and luxurious resort in the already stunning St. Lucia. This resort is situated in a tropical paradise above acres of seafront. You will be pleased to hear that this resort is a techno-free zone, so you can concentrate on rest and relaxation. The owner, architect Nick Troubetzkoy, built the resort and refers to the rooms as sanctuaries. Each sanctuary is private, but has an open 4th wall, letting in the light and scenery of your surroundings. You can choose a sanctuary that has an infinity pool or jacuzzi.
We hope that these suggestions have inspired you to start planning your luxury world trip today.
About the author: Danielle Rose blogs for Saga Equity Release UK. Many of Saga's customers have used equity release to realise their travel dreams after retirement.