5 Things to do In New York City Rain or Shine
Many people book their trip to New York City months in advance, and you run about a 50% chance every day you're there of the weather being nice. Luckily, there are so many things to do here, that you can still get out and see many of the top New York City attractions no matter how bad the weather may be. Just because you can't spend every day of the year strolling around Central Park or lounging about drinking champagne on a boat tour on the Hudson River doesn't mean that you can't enjoy New York City!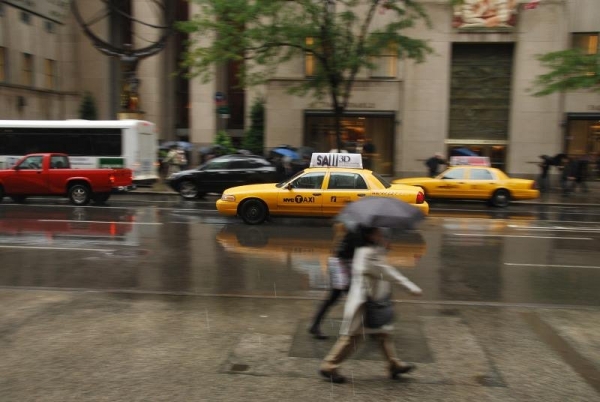 Shop 'Til You Drop. Rain or shine, shopping is one of the biggest pastimes that draws travelers to the city. There's shopping all over New York City, and luckily most of it takes place inside buildings. Bring your umbrella to go from place to place and head to the big stores you can spend hours getting lost in like Macy's, Bloomingdales, Saks, FAO Schwarz and the Manhattan Mall.
Take a Tour. There are tons of options for touring New York City, and while you're not going to want to take a walking tour in Times Square or a photo tour in Central Park, there are still plenty of options. Tours of the United Nations, Gracie Mansion, Radio City Music Hall, NBC Studio Tours and the Underground Tour at the Federal Reserve Bank are all perfect for a rainy day activity in New York City. You can learn a lot and can still explore the city that you came to see, from the inside. If it's only sprinkling, or maybe when the rain lets up but it's still wet outside, hop on a bus tour of NYC like The RIDE NYC and see the city sights without having to avoid any puddles.
One of the most popular museums in NYC is the Museum of Natural History. 25 connected buildings to explore and 32 million specimens to see will give you plenty of things to do on a rainy day in NYC. You can learn all about dinosaurs, mummies and maybe find out a few things about your ancestors! Maybe. Either way, a rainy day is well spent here whether you're by yourself in the big city or with your family – there's something for everyone to learn!
The Metropolitan Museum of Art is another great museum to see rain or shine. This is one of the most famous museums in the world, and you won't be able to miss the two million square feet of art that take up a few blocks of Manhattan. Almost no one can see everything here in one trip, so at least you know if it rains the entire time you're in NYC, you'll have something to do every day.
Head to Chelsea. Whether you're dining and shopping at the Chelsea Market, you'll love exploring this area on a rainy day or a sunny one! Check out the pizza and beer at the Chelsea Brewery and shop at all the boutiques and hidden gems around the area. If the rain stops while you're in the area make sure to head to High Line Park for a waterfront view or take one of their they offer a 3-hour tasting tours for a real treat! You'll get delicious tastings at eight of the restaurants here.
While many of these activities are great things to do in New York City under every weather condition, when it's nice outside you just might be occupied with other attractions. You can often also find great things to do just by getting out and exploring. Some of the best hotels in New York City are located near little shops and restaurants that don't make the big lists, but probably still should, so ask your concierge what they recommend nearby and you might enjoy some things that most New Yorkers don't even know about!
This article was written by Lizz Riggs, editor of NYCTourist.com.
Please follow and like us: