Is it Safe to Travel to North Korea?
In contrast to previous articles, the answer to the question posed in the title is a resounding yes, safe as houses. But yes with one very strong proviso, and that is, safe provided you toe the party line, say nothing out of place, do exactly what you are told, and generally behave like a model citizen.
North Korea has been on my bucket list for some time, and having done a little bit of research, I was all too aware of the risks of challenging the status quo in the totalitarian state that is Kim Jong Un's Republic of Korea. I am equally aware of my own difficulty in keeping my mouth shut for any length of time if I should come across anything I might perceive to be an injustice. Therefore, I deemed it apposite to curtail my first visit, to North Korea, and opted for a three day tour.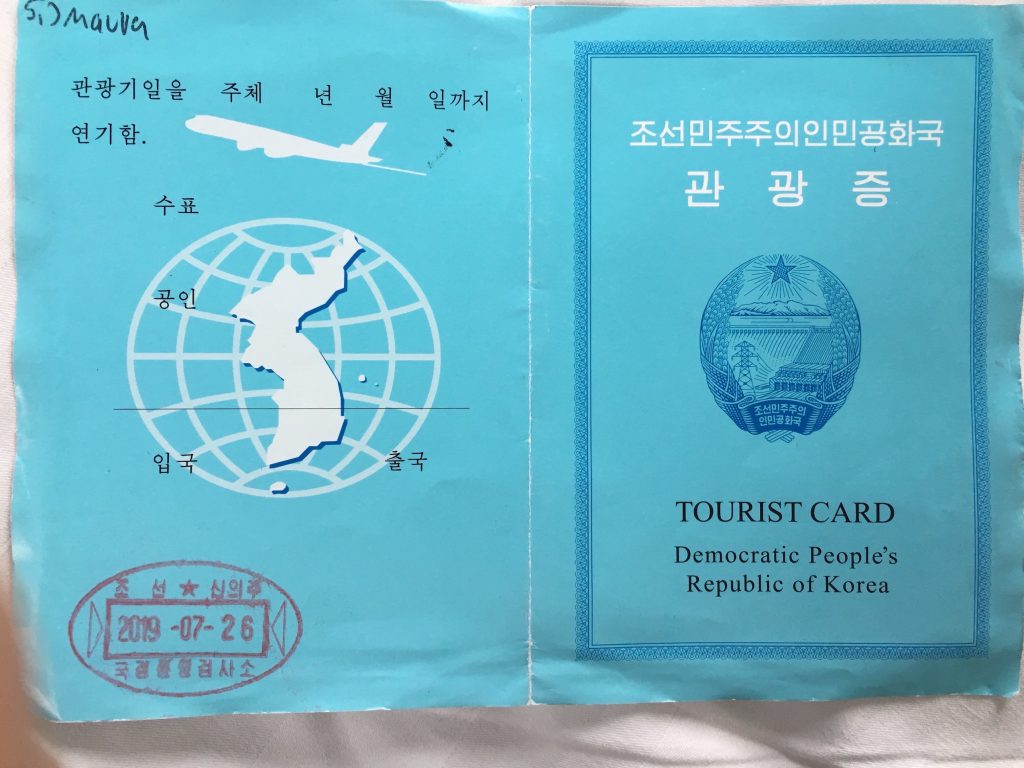 It is only under very exceptional circumstances that North Korea will admit an individual as a tourist, so I applied for a place with Young Pioneer Tours on a three day budget tour, taking in Mass Games. Perfect, apart from the apprehension engendered by joining a group of unknowns.
I was accepted by Young Pioneer, and set about obtaining the necessary paperwork etc. There are only two ways to legally enter North Korea, both via China. One is to fly direct from Beijing to Pyongyang, and the other is by train from Dandong, the Chinese border town, so therefore a basic one visit tourist visa wouldn't do – I needed at least a double entry one, and decided to go for multi-entry to give myself some leeway. I'm not even going to begin to write about the hoops through which I had to jump to get that multi-entry Chinese visa – suffice to say I ended up making an appointment at the Edinburgh consulate and flying there!
The first Chinese representative with whom I dealt treated me as if it was my intention to wipe out the entire ruling party, but things improved from there on. The next person to deal with my application was charming, especially when she saw from the itinerary I supplied that after North Korea, I was going to her home city – Xian. She obviously expedited things, because I got my passport in the post, complete with multi-entry visa, three days later.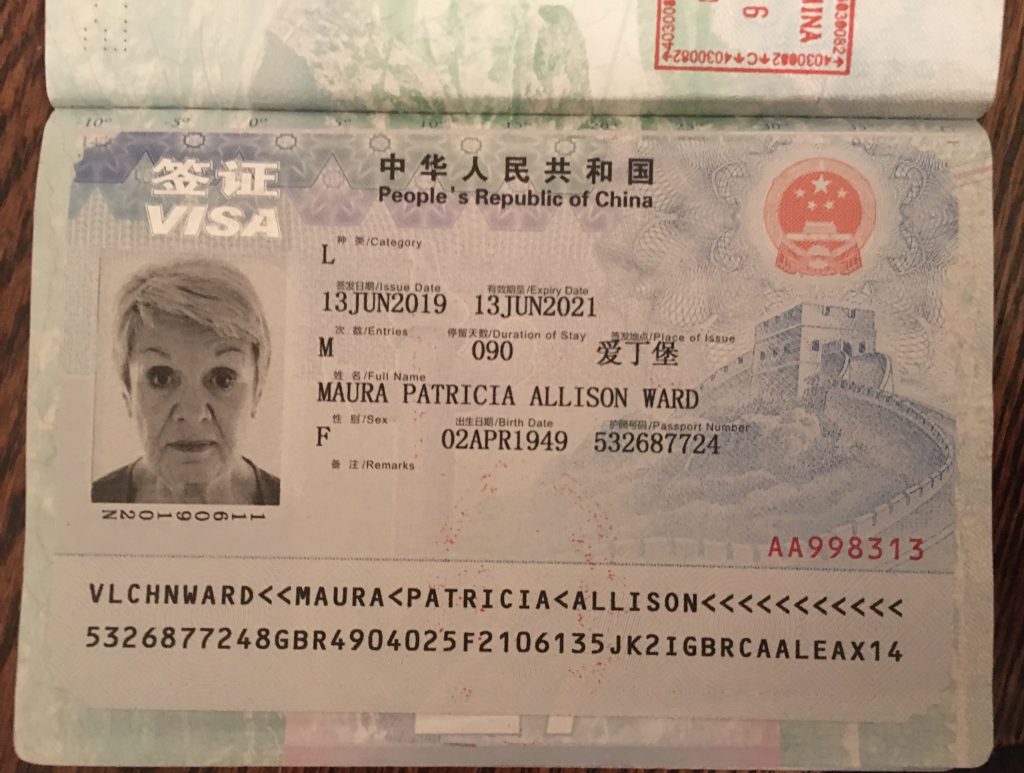 I forwarded application forms, visas, references, itinerary, etc to Young Pioneer Tours, and after a few tweaks, all was confirmed. I was going to North Korea!
The group was to be led by both a tour company guide, and one or two North Korean Government guides. Our company guide was an engaging young Chinese lady called Michelle, and she set up a WhatsApp group two weeks prior to the tour to give people the opportunity to introduce themselves. It appeared that most of them were flying to either Dandong or to Pyongyang, and some others were coming early on the night train from Beijing.
I had looked at the various methods and decided that I would travel, by train, from Beijing to Dandong and stay the night in a hostel there because we were meeting at 07.30am at the railway station so as to be in good time to go through the Chinese emigration procedures prior to the train leaving at 10.30am.
The hostel was a good one one, apart from the fact that my room was on third floor and no lift – test for my Mount Fuji knees less than a month later. I was recognised by one of my fellow Young Pioneers, a South African called Andrei, and we arranged to travel to the railway station together the next morning.
Andrei and I got to the station the next morning in good time, and went looking for our group. My experience of Chinese city stations, albeit limited, is that they are very busy and quite chaotic – this one was no different! Fortunately the groups of western faces were few, and we were aware from our WhatsApp group that most, but not all, of our fellow travellers were from the west, so finding them was relatively easy.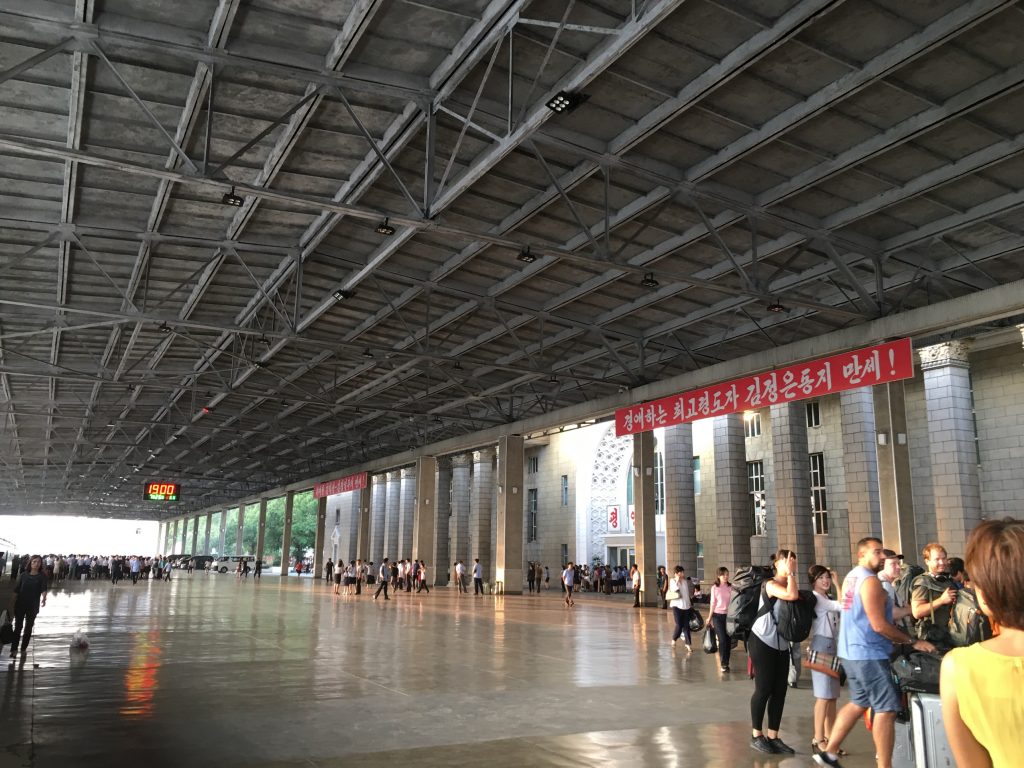 After introductions, Michelle suggested that those of us already at the station go and collect our pre-ordered tickets – another interesting experience given that each ticket desk had a different function, clearly written above the window – in Chinese!! Now we could now see why we met so early, and there was still the first real obstacle to be overcome – Chinese emigration! We were shown into a room where there were three or four queues, and we joined one designated 'foreign passports'. To my great surprise we all sailed through without any holdups.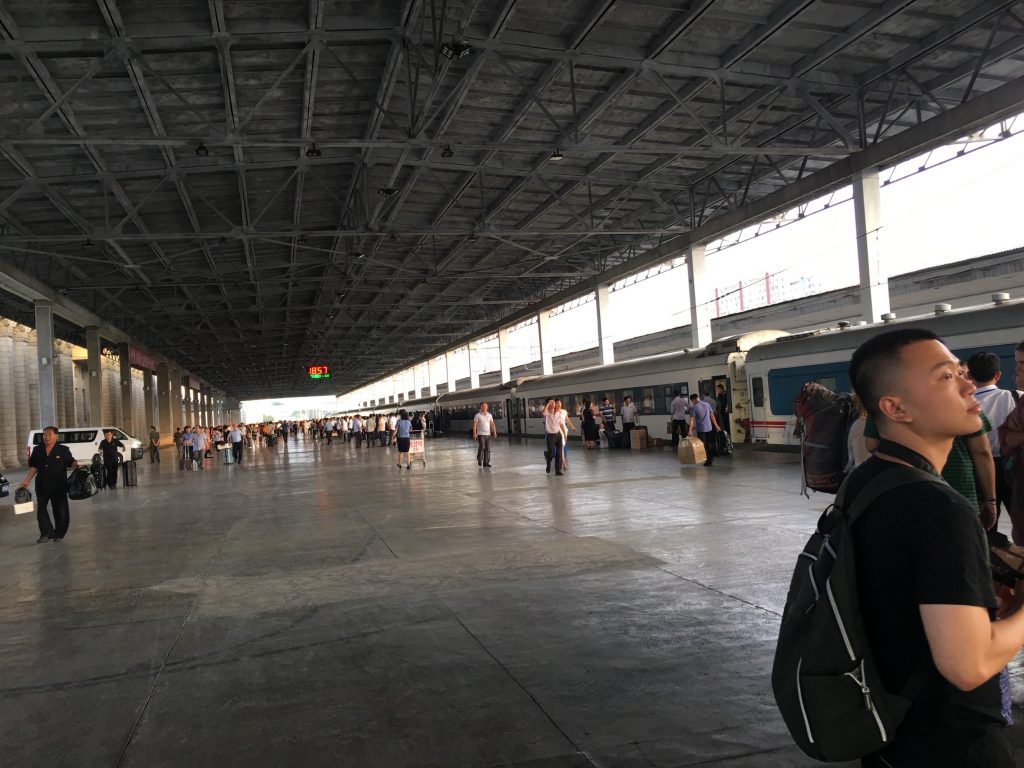 From there it was onto the station platform, and onto the train which was waiting. Michelle told us not to bother about getting seats because we would changing trains within another ten minutes. And that was exactly what happened. We were standing around on the platform, probably looking quite lost, while Michelle was talking to two people she apparently knew. Very soon after, all three people came to the group and Michelle introduced the man as our North Korean guide. After brief pleasantries, we were asked to follow the man and woman, and we were herded into a room in the station itself.
None of us were very sure what was going on, and eventually I went to the North Korean man and asked, only to be told it was 'border procedure'. None the wiser, we just sat there with our bags beside us, until eventually some soldiers searched all the bags and we were ushered onto yet another train, and we were off! By this time it was after mid-day, and we learned that we were now in the Democratic Republic of North Korea, and had been since we got off the first train! The station we had just left was Sinuiju, the first North Korean town after the border.
The train journey was uneventful, but long. There was little to see, and eventually we arrived in Pyongyang around 6.30pm. I had always thought North Korean architecture would resemble the cement grey, utilitarian looking buildings so beloved by the Chinese. I was wrong – although apparently deserted, the buildings appeared pleasant and colourful.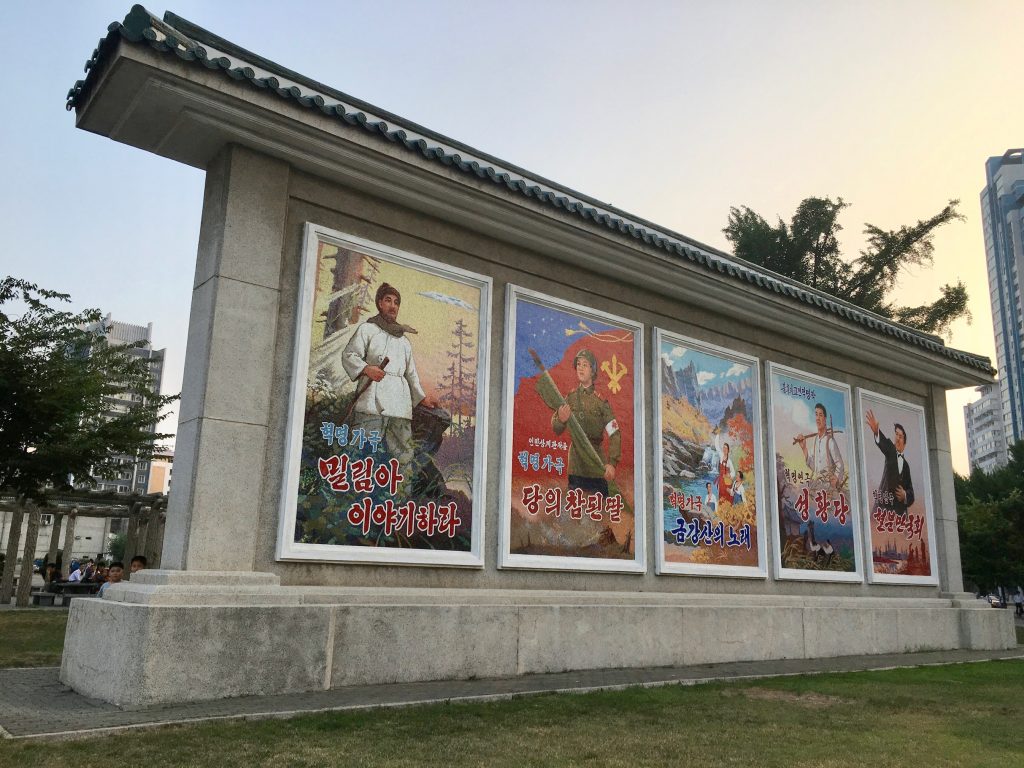 We were told by the guide that we would have a short bus tour of the city centre, stopping at the main square, Kim ll Sung Square for photographs.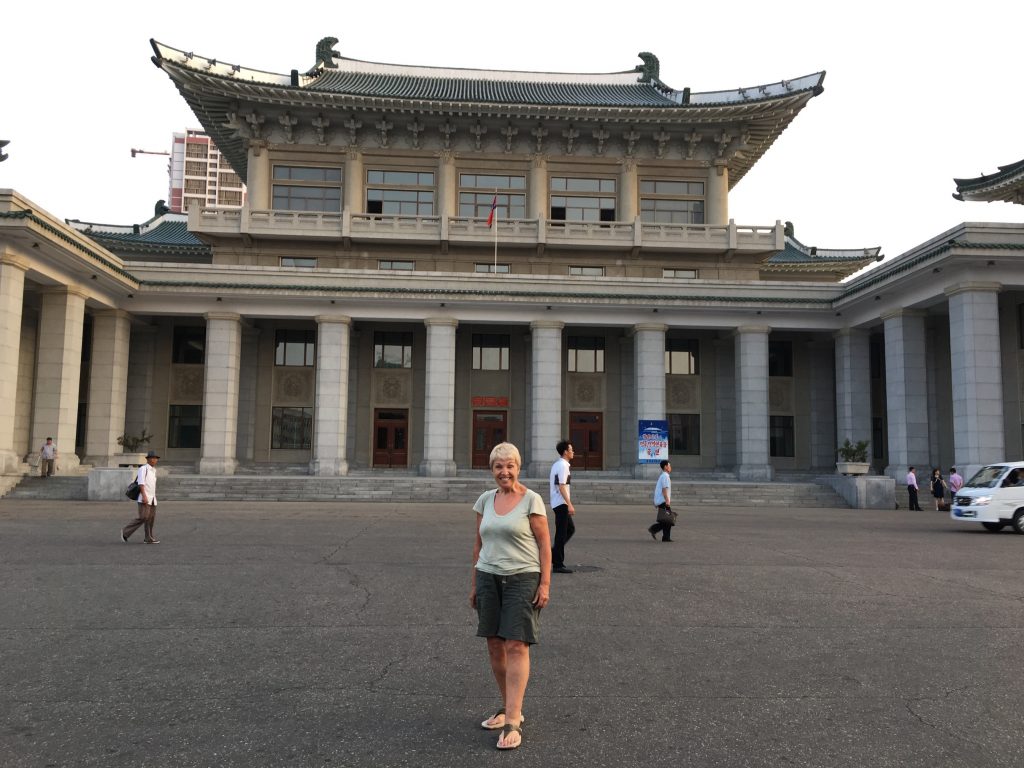 My abiding memory of central Pyongyang is the lack of humanity, or even activity. This was a Friday night in a capital city – where were the people?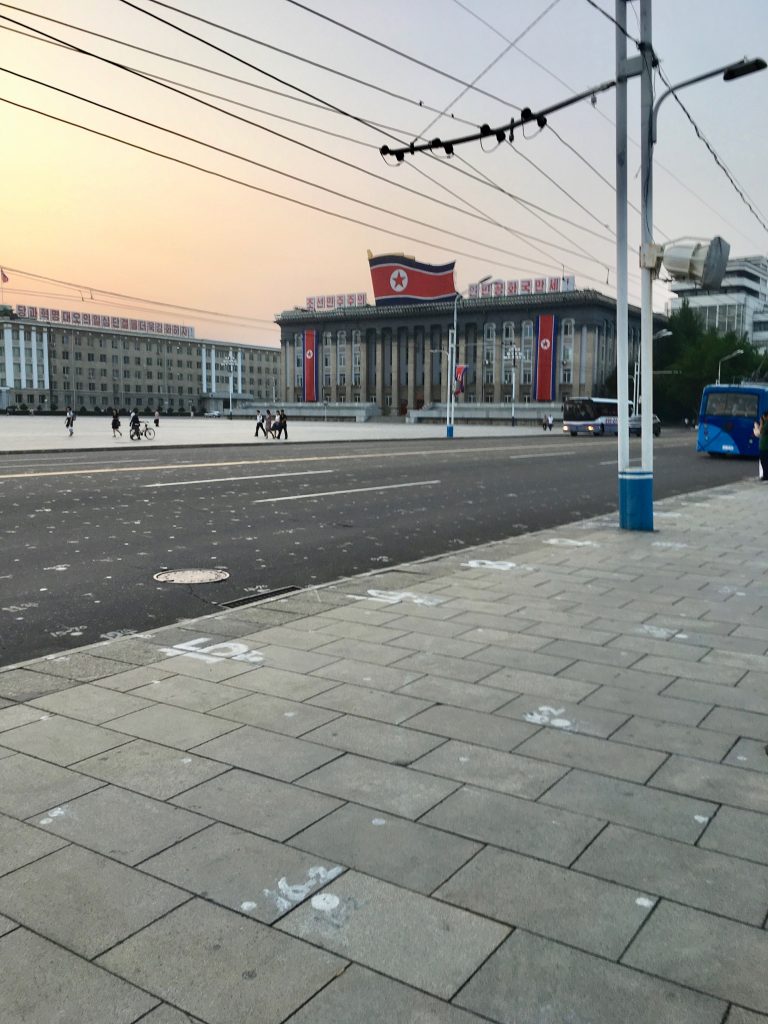 When I asked, our guide told us that commuting was unknown in Pyongyang, because the government ensured there was enough accommodation in the city itself to house all the people working there.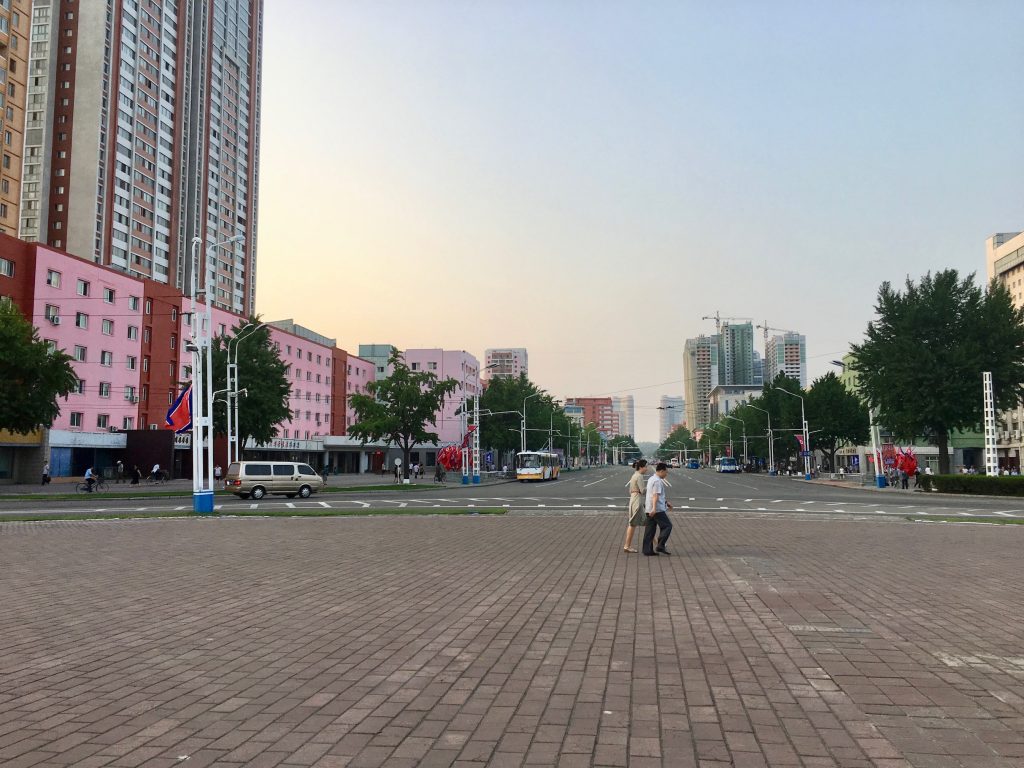 After a walk round the city centre, we were taken in the bus to our hotel, about 15 minutes from the centre. The Chongnyon Hotel has 30 floors and 900 rooms, and, to western eyes, is very much a budget hotel. Having said that, I found it clean and quite adequate. There didn't appear to be many other guests, and those I saw were exclusively Chinese.
Led by our Korean guides, we walked to a nearby restaurant for dinner, and afterwards returned to our hotel. The group were all a lot younger than me, and some of them were heading for the bar, but it was a long day, so I headed for my bed.
The next day was a holiday, Victory Day, and after breakfast we met in the hotel lobby to board our bus to go to the Mansudae Monument. This pays homage to the current leader, and his father, from whom he inherited his position, and takes the form of two huge bronze statues, each 22 metres tall. Michelle had told us the previous evening that we had to dress modestly if we wanted to join in with locals and lay flowers at the statue. Modestly meant shoulders and knees covered, and shoes, not sandals!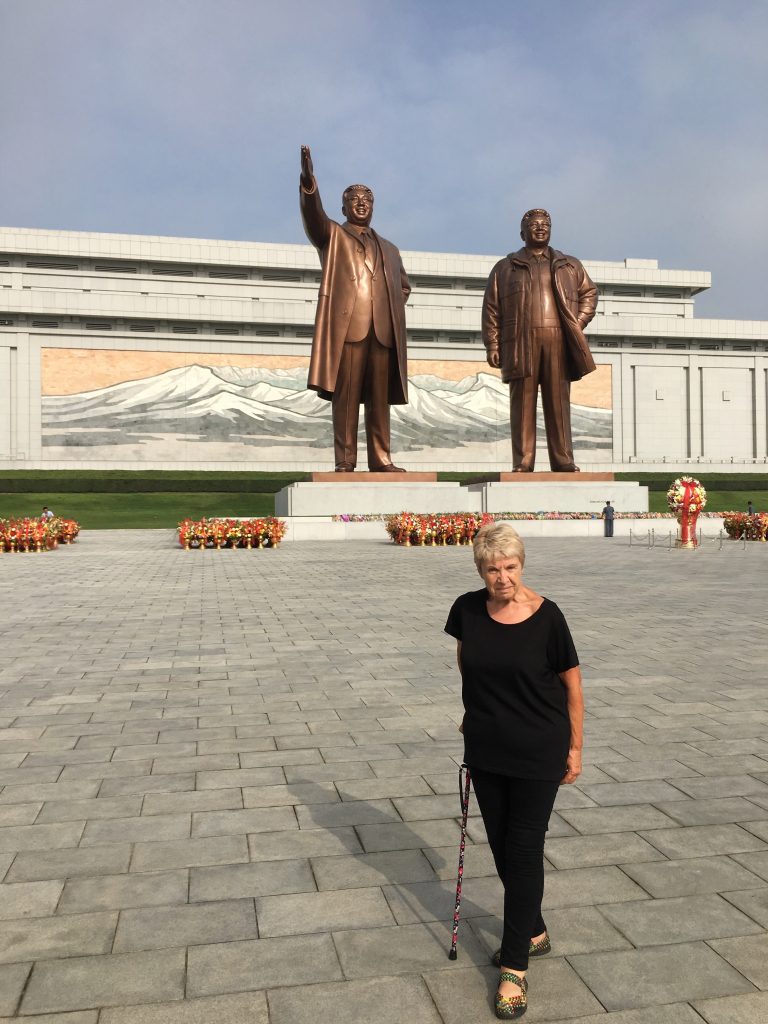 There were lots of locals there too, and a military platoon, and the occasion appeared to be very sombre. Photographs were permitted, but only when there were no soldiers in the area. It was frequently repeated to us by Michelle, and the local guides, that photographing anything even vaguely military is strictly forbidden, so the photos were taken after they had dispersed.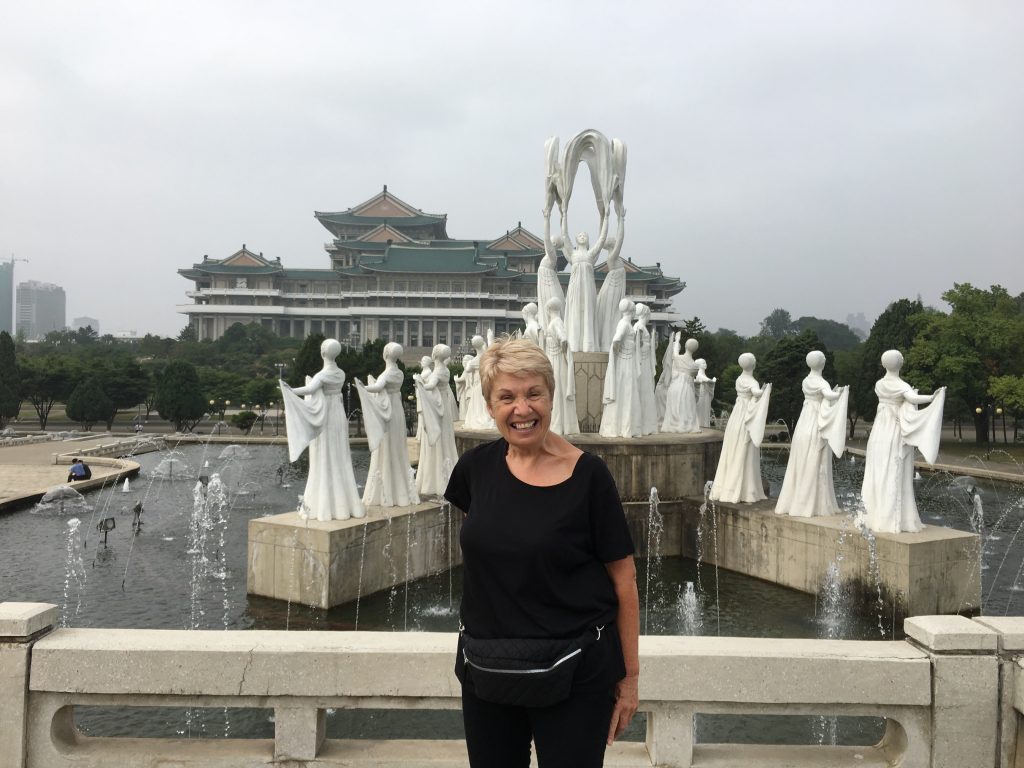 We stayed in the same general area for a bit admiring the fountains in the square around the Grand People's Study House, an academic centre and library for adult learners. From there we went to the Monument to Party Founding where there was a mass dance of students in national costume in the square in front of the monument. From a distance it appeared a joyous occasion, and all our guides encouraged people to join in. We didn't last very long because the temperature was around 30 degrees, and there was no shelter from the sun – it was exhausting. There was no such respite for the local young people, they went on dancing until the music stopped. The only time I saw any of those local young people smile was when we joined in, and generally made idiots of ourselves. When I realised there was no enjoyment on the face of anyone I could see, the spectacle lost all pleasure for me.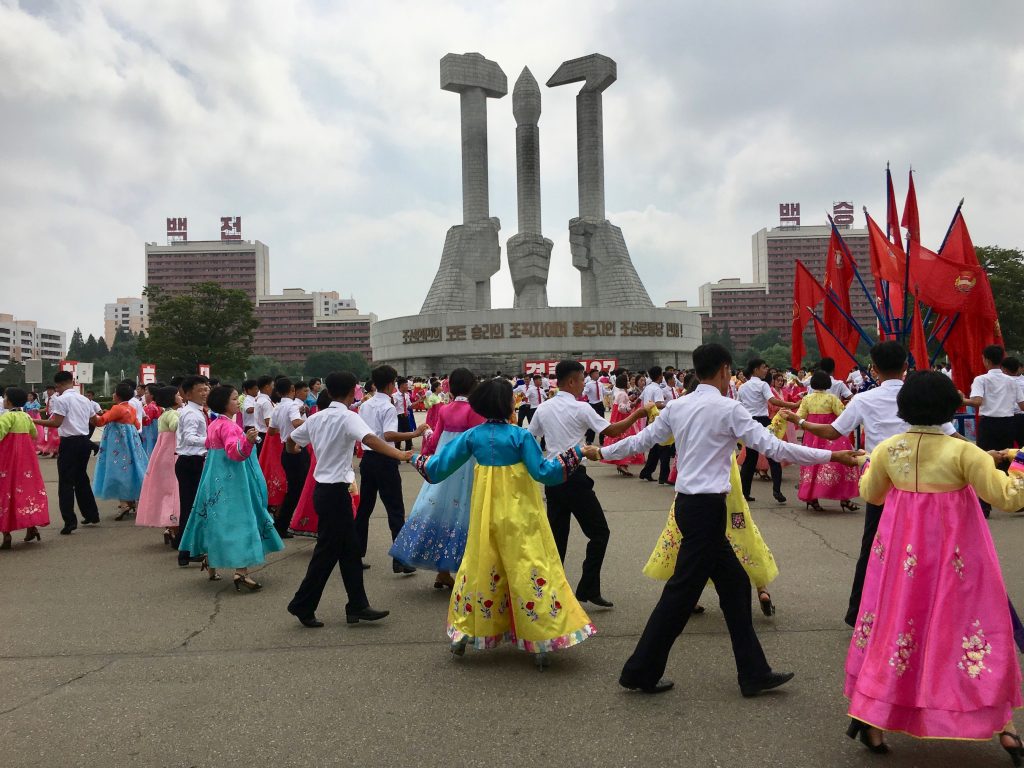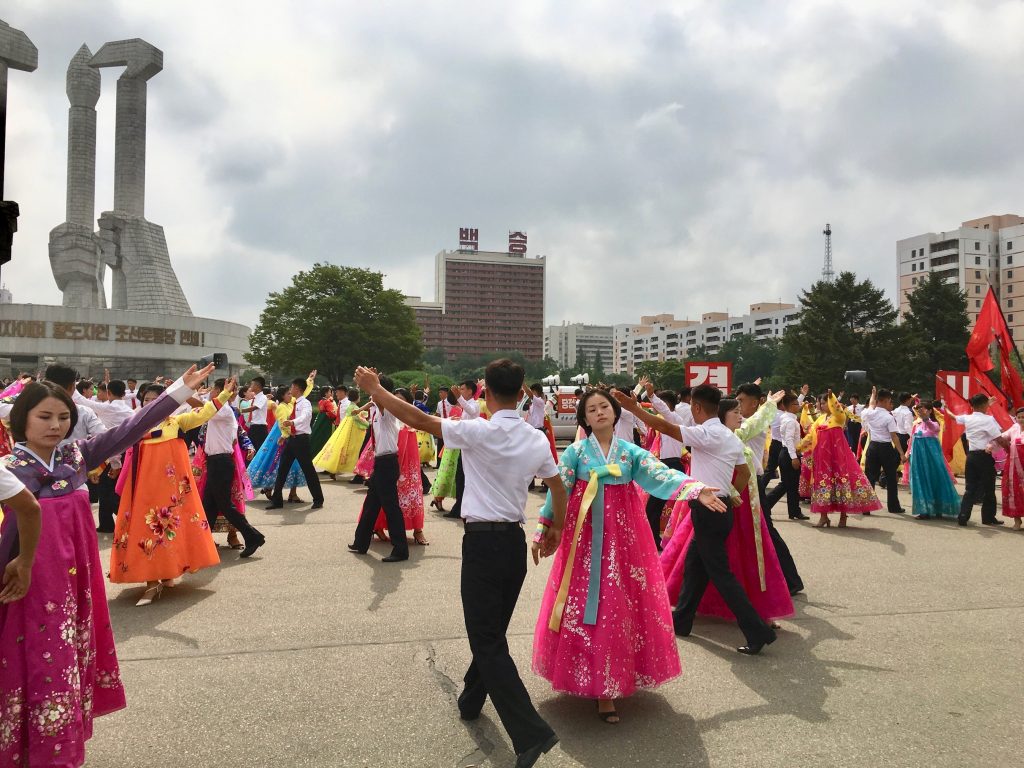 We also went to the foreign language bookshop where apart from non Korean language literature, we were able to buy some postcards, posters and other souvenirs. As with the night before, the streets and roads were unbelievably quiet – it was quite unsettling.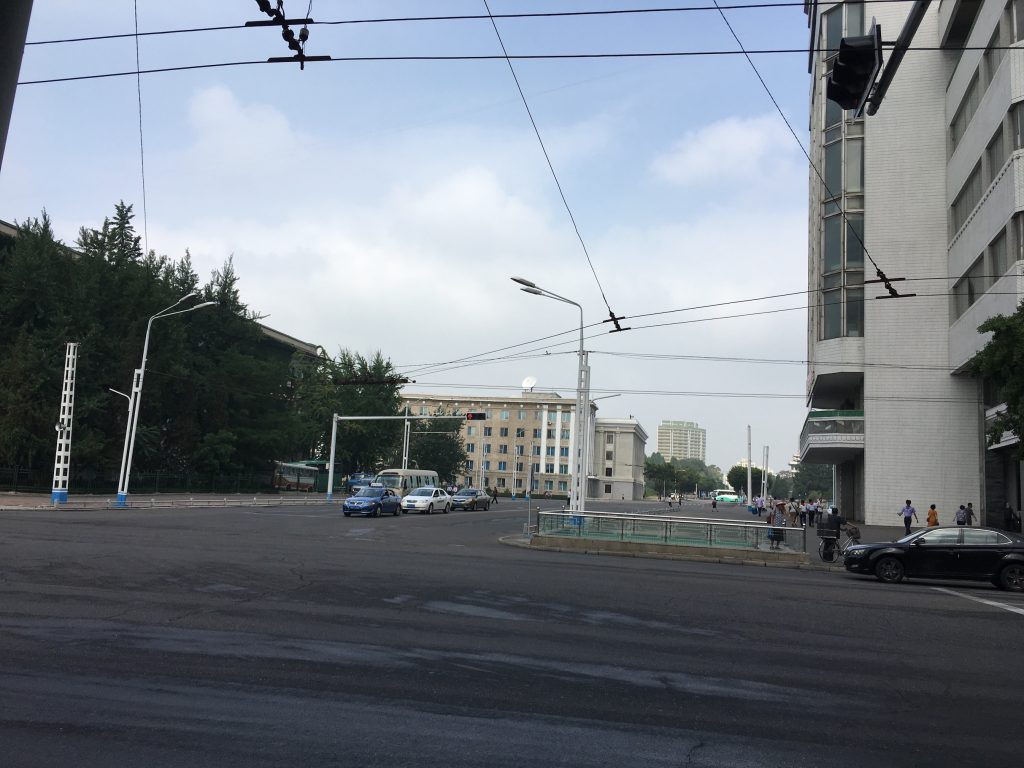 We walked from the bookshop to the the central Kim ll Sung Square, and stopped for lunch in restaurant near the square. We had the opportunity to sample a popular local dish, Pyongyang cold noodles – obviously an acquired taste!
Back on the bus after lunch to have the opportunity to travel on the Pyongyang Metro. Normally I struggle with being beneath the ground because I'm claustrophobic, but this experience was so bizarre, that I hardly noticed where I was. I have never seen an underground like it, and we seemed to have , not only the station, but the whole system to ourselves. There were very few people around.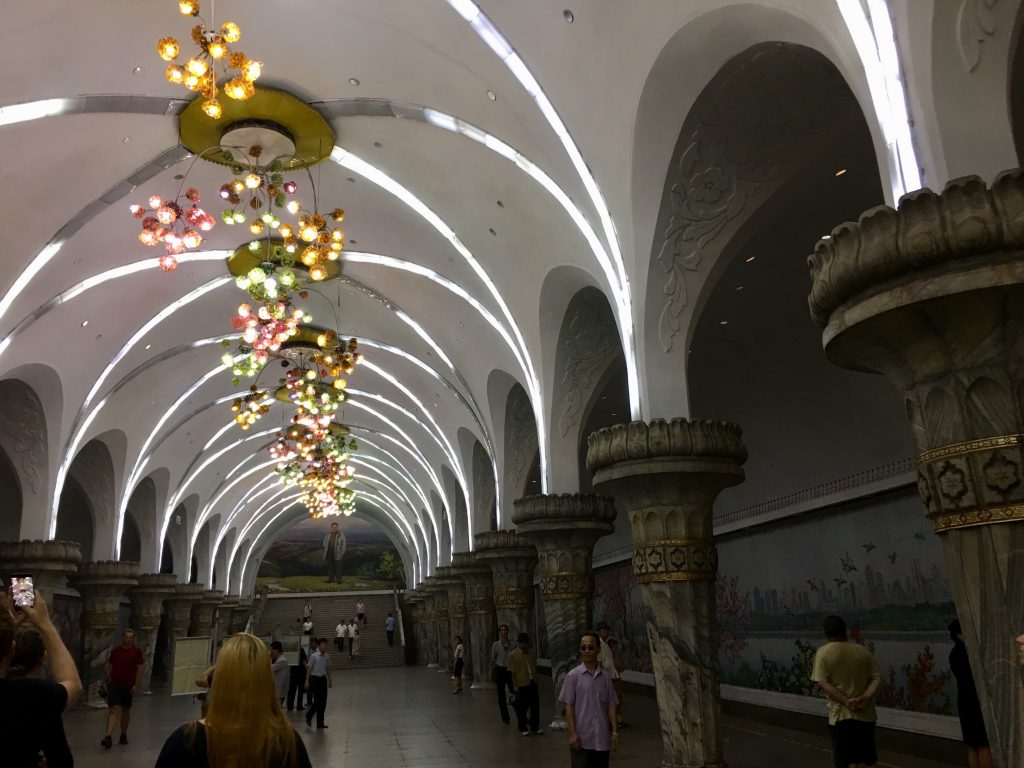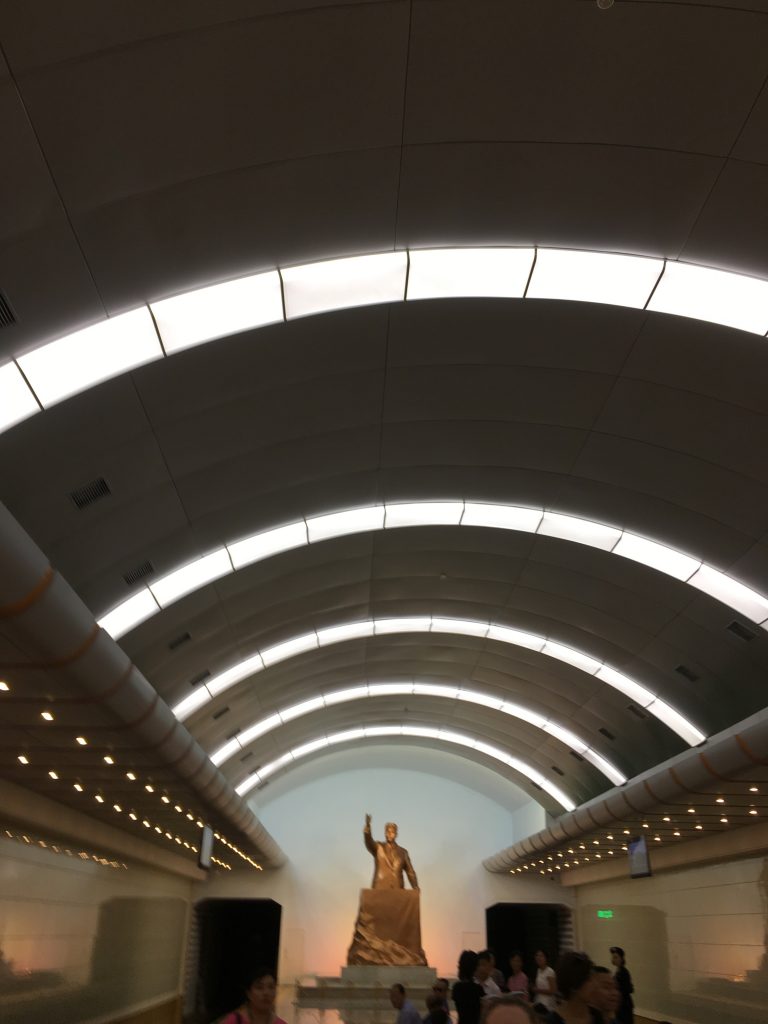 We exited the Metro at the station beside yet another monument, the Arch of Triumph, and from there to Juche Tower, described as the tallest stone tower in the world. (It's not – there is a bigger one in Texas San Jacinto Tower).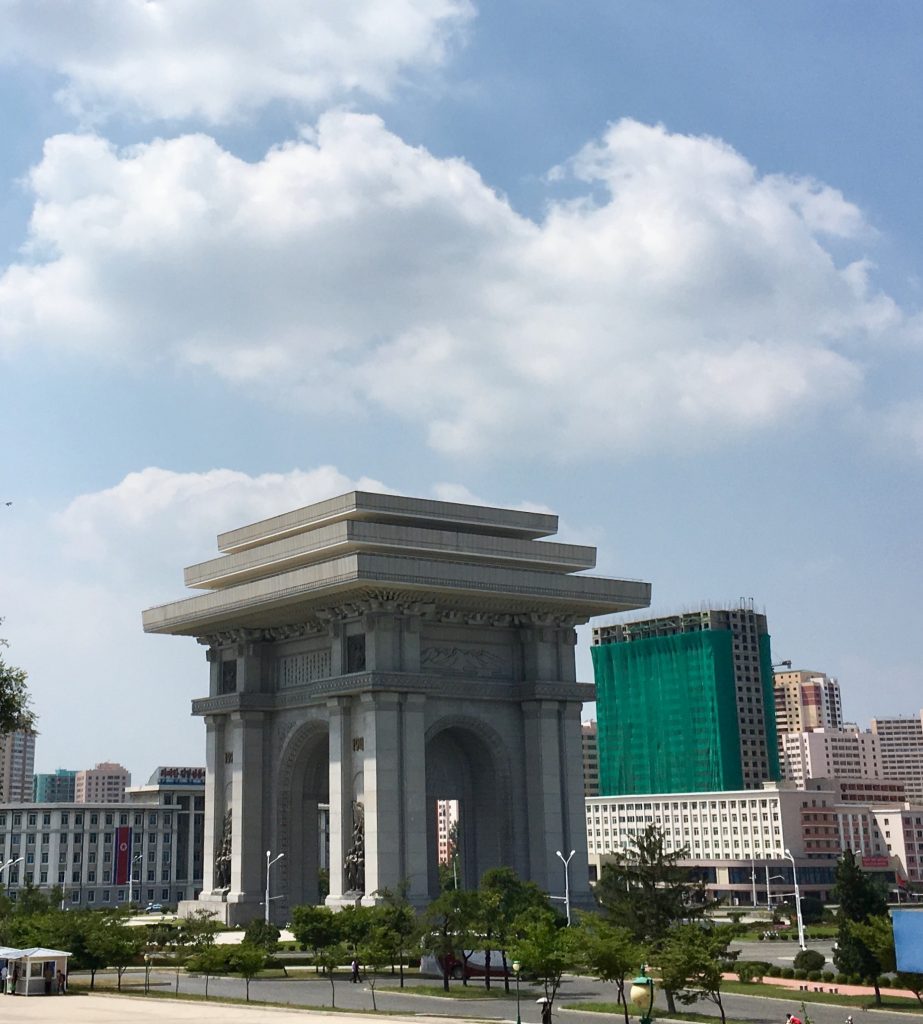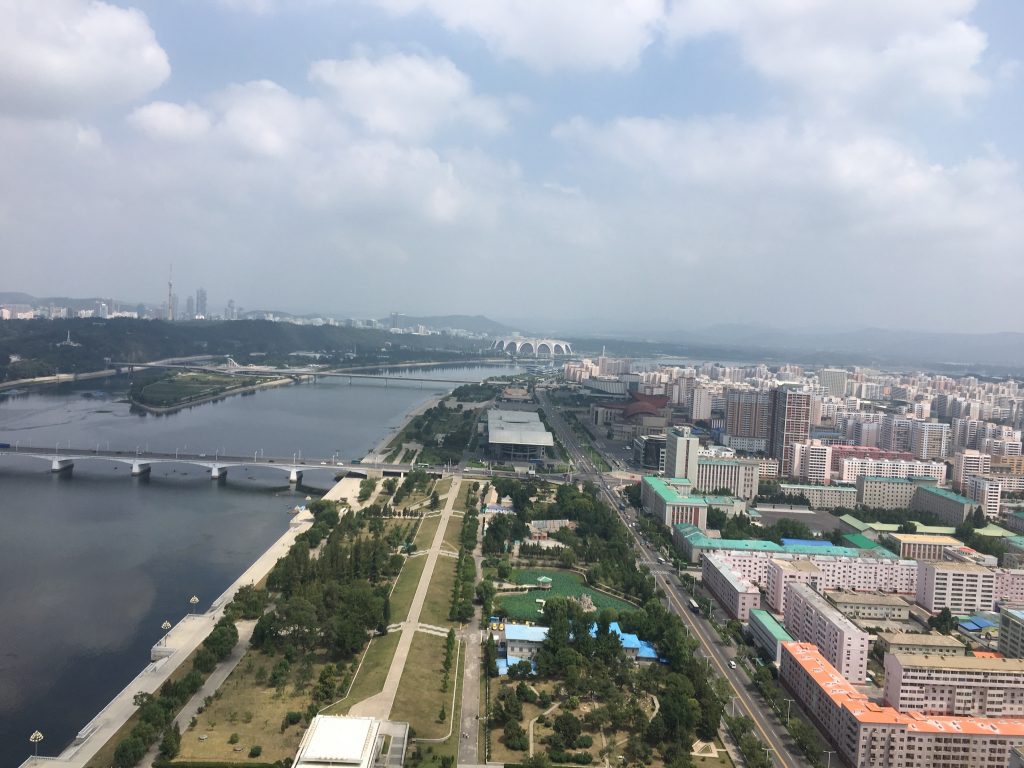 Because this was a national holiday, our guide told us that local families liked to go to the park for relaxation, and we would also go along to see how they lived. Moranbong Park was the quietest family space I have ever been to. There was no shouting or laughing, or even crying to be heard from the children, though the adults became more animated when we appeared. There wasn't a ball or a bat, or indeed, any plaything, to be seen. We did see two young people looking genuinely happy – they had just got married!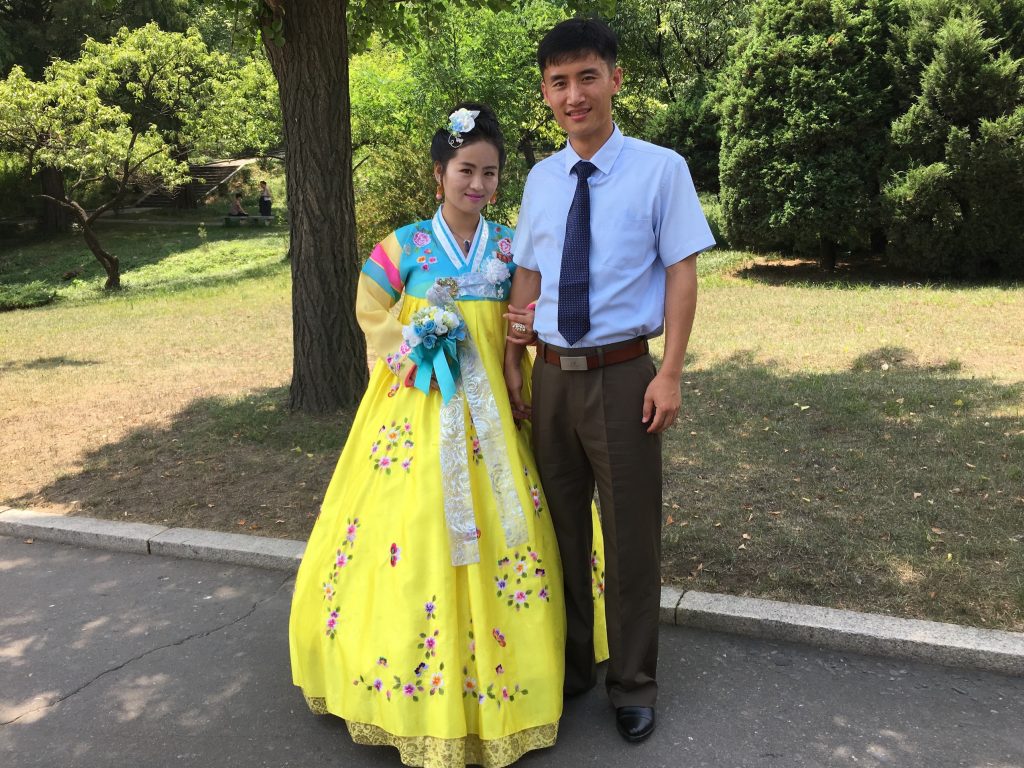 Some more sightseeing, including the opportunity to try different types of local North Korean beer. The beer drinkers in our party found the beer most enjoyable, and had no complaints about any of the brands.
A packed full day, but not over yet. Back to the hotel to change for dinner, and from there off to the Mass Games.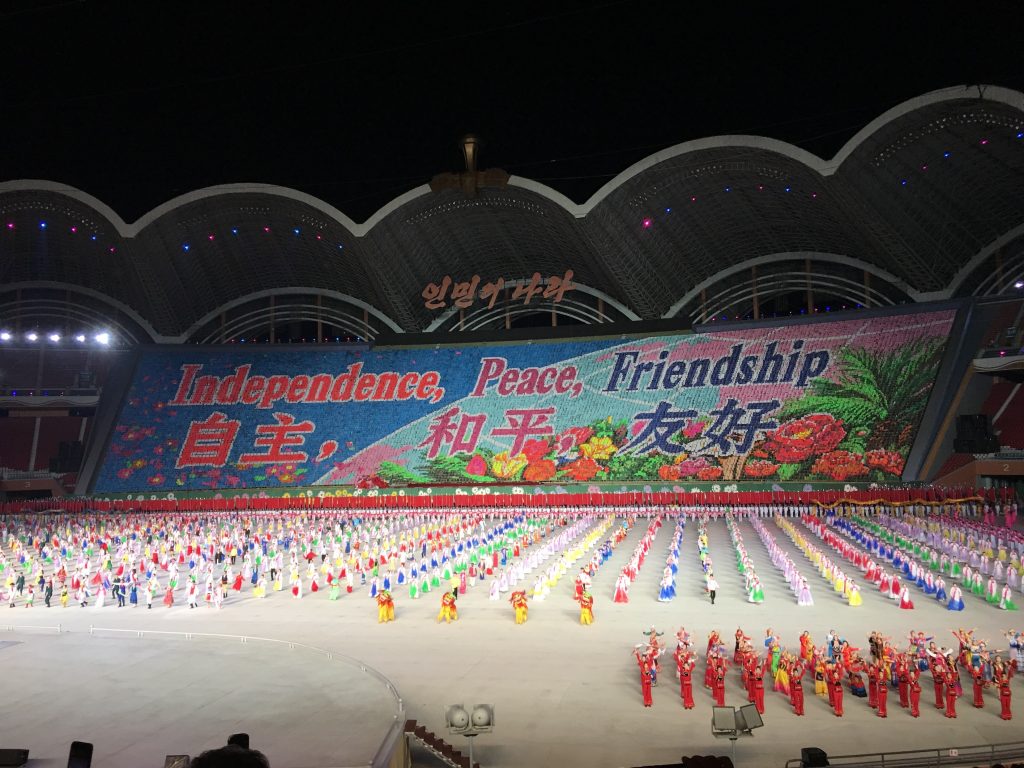 I was blown away by the games, the performance , the stadium, the changing mural – the whole thing was incredible. My only disappointment was the absence of Kim Jong Un. There were dignitaries watching, but unfortunately the esteemed leader was not among them.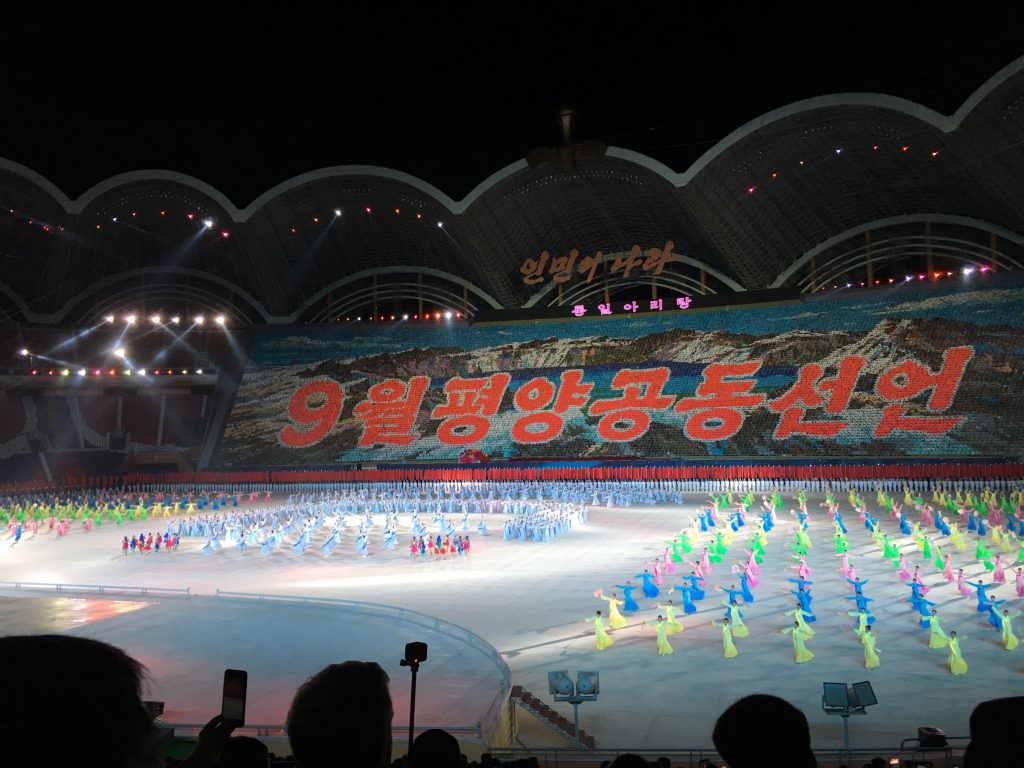 There was, in the seats on the other side of the stadium, immediately opposite us, a picture which changed many times throughout the evening. It was made up by people in the seats holding up placards, making most of the opposite side a work of art. Apparently it takes 20,000 people to make the pictures, and another 80,000 taking part in the games themselves, all of the participants aged between 5 years and 25. To manage young children in particular, to perform in such a way is nothing short of astonishing.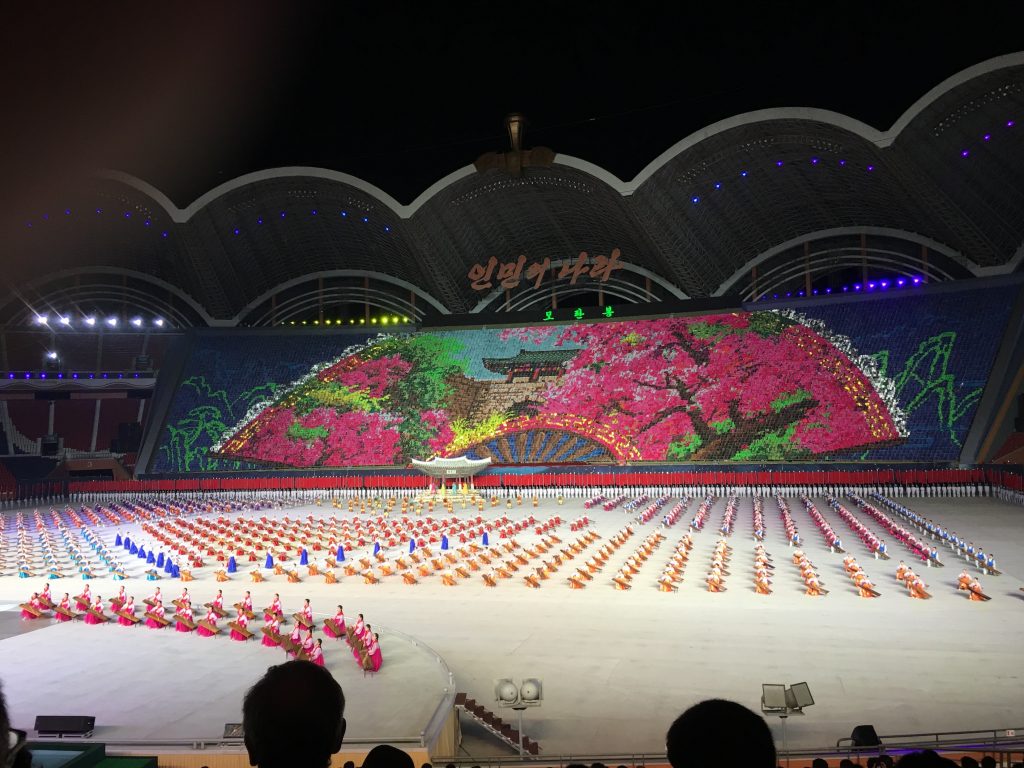 The whole performance was breathtaking, precisely choreographed routines, with gymnastics, synchronised dancing and athletics, with not a foot put wrong.
After the performance, it was back to the hotel bar. The craic was good, and it was a very pleasant end to a long, but fascinating, day.
All too soon it was the next day and time to leave the Democratic Republic of North Korea. I'd gone there to learn about the country and what made it tick, and I was leaving not being any wiser. Other than our guides we didn't get a single opportunity to actually talk to anyone local, and hotel staff were pleasant but did not react to any overtures leading to actual conversation. On the way back to China, the people with whom I had spent most time and shared the train compartment and I discussed at length what we had experienced. I think we all felt like we were travelling in a parallel universe, going the same way, but never coinciding. It was as if we were on a film set, and everyone we came across was acting. It was a most peculiar feeling, and while I'm still curious about North Korea, I'm not entirely sure I want to return in the near future. Beijing seemed quite ordinary in comparison.
Please follow and like us: