Journey to Japan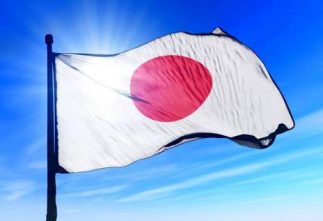 I had a family bereavement in late 2017, and in December that year, I decided i wanted to get away for a break, and discussed it with my children. My son suggested that we could join a friend of his ,who was taking his mum on holiday, and go to Vietnam. I jumped at the idea, and booked flights to meet Johnny in Bangkok.
Johnny and his girlfriend, Jaa, came home for Christmas that same year, and told me they were going skiing in Japan immediately after the Vietnam trip. I was bit taken aback, because we usually spendn a bit of time together in Thailand at the end of my trips. Johnny carried on talking, and then asked what I thought. I hadn't been listening , so he repeated what he said – he asked if I would like to join him and Jaa for a two centre break in Japan. They were going to central Japan to see the snow monkeys and then north to go skiing! Johnny also said Jaa had to return to work after that, but he and I could maybe tack on a couple of days in Tokyo at the end ! I had never considered Japan as a destination before, largely because of it's expensive reputation, and thus, prior to going, I hadn't done much research on the country – I couldn't quite believe it!
However, I can recognise the icons. All three of us were on a flight from Bangkok to Tokyo, and about half an hour before landing,I looked out and saw something familiar, familiar because it was the subject of many photographs and illustrations. Mount Fuji was immediately recognisable – symmetrical and with a snow covered top. I really began, at that moment, to realise I was going to Japan, and the excitement really started to build!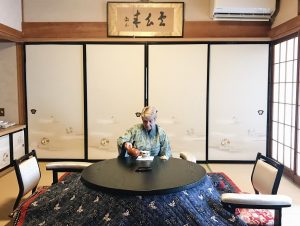 This was all confirmed a short time later when we had left the airport and gone into Tokyo. We were waiting for our train, and not once, but twice, into the station pulled bullet trains. Wow and wow! Two of Japan's most iconic sights in the space of minutes. Now I knew I really was in Japan!!
Following a two hour rail journey, we arrived, late at night, at Jinpyokaku honten (a traditional Japanese inn), in Yudanaka, a small town in central Japan.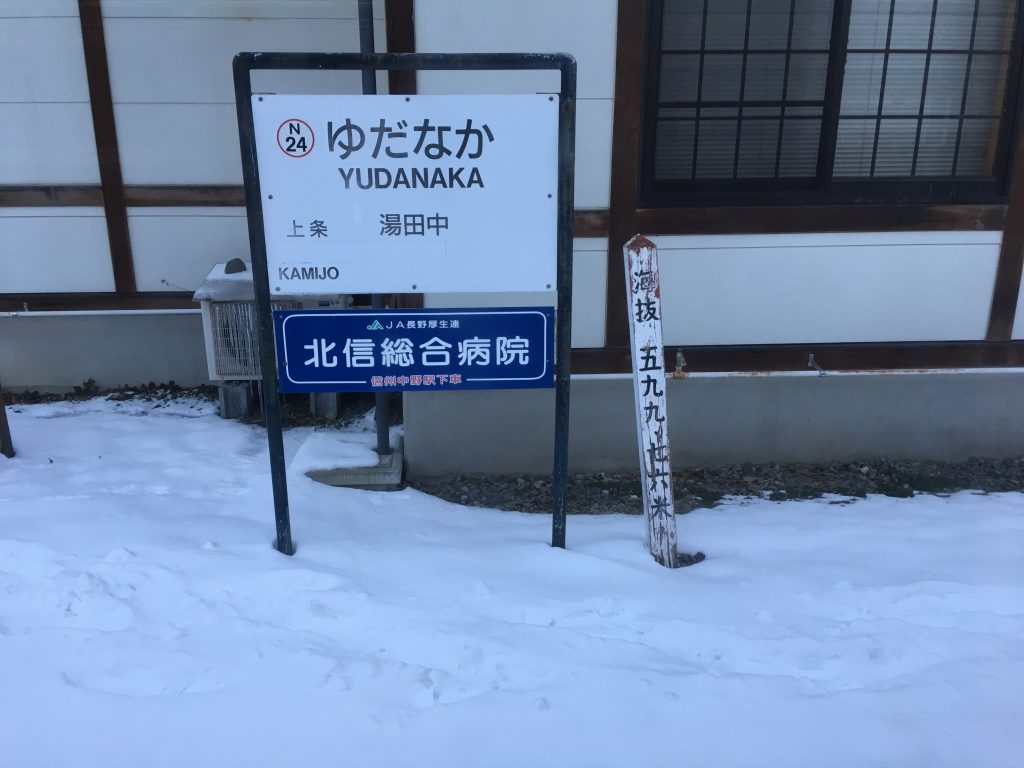 As well as mountains in this part of Japan, there are many natural hot springs, known as onsens. These are regarded as therapeutic, and often the water is piped into both public and private spas.
Also in this area, in the mountains, there are macaque monkeys. These are known as snow monkeys. People flock from all over the world to see them because, uniquely, these monkeys come down from the mountain heights in the depths of winter to bathe in the hot springs, and they seem oblivious to the humans who come to watch.
We had been told the monkeys had not been seen for a few days, and we were devastated. We decided, late night notwithstanding, we would make ourselves get up early the next morning and trek up the mountain to wait, for as long as it took, to see them.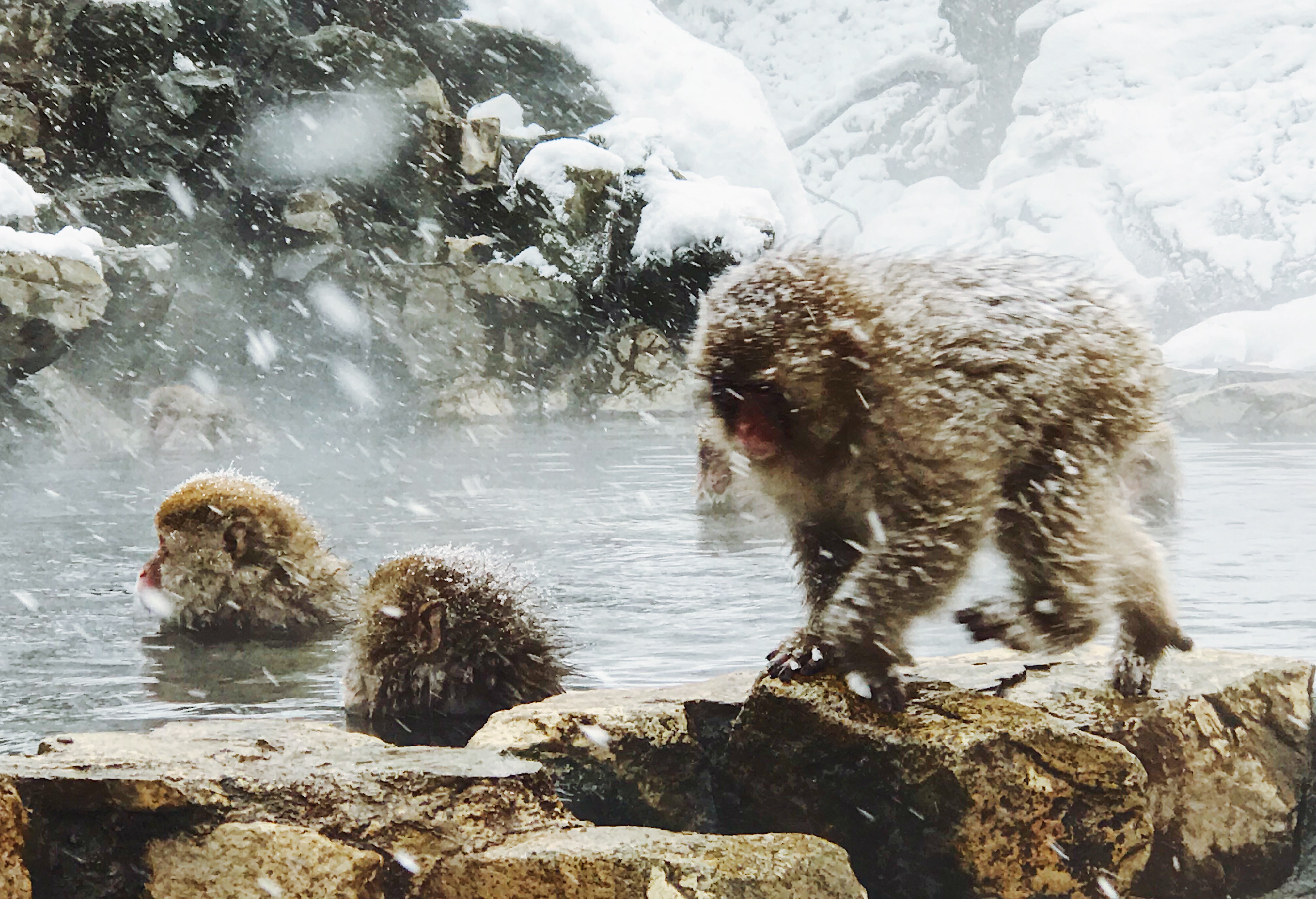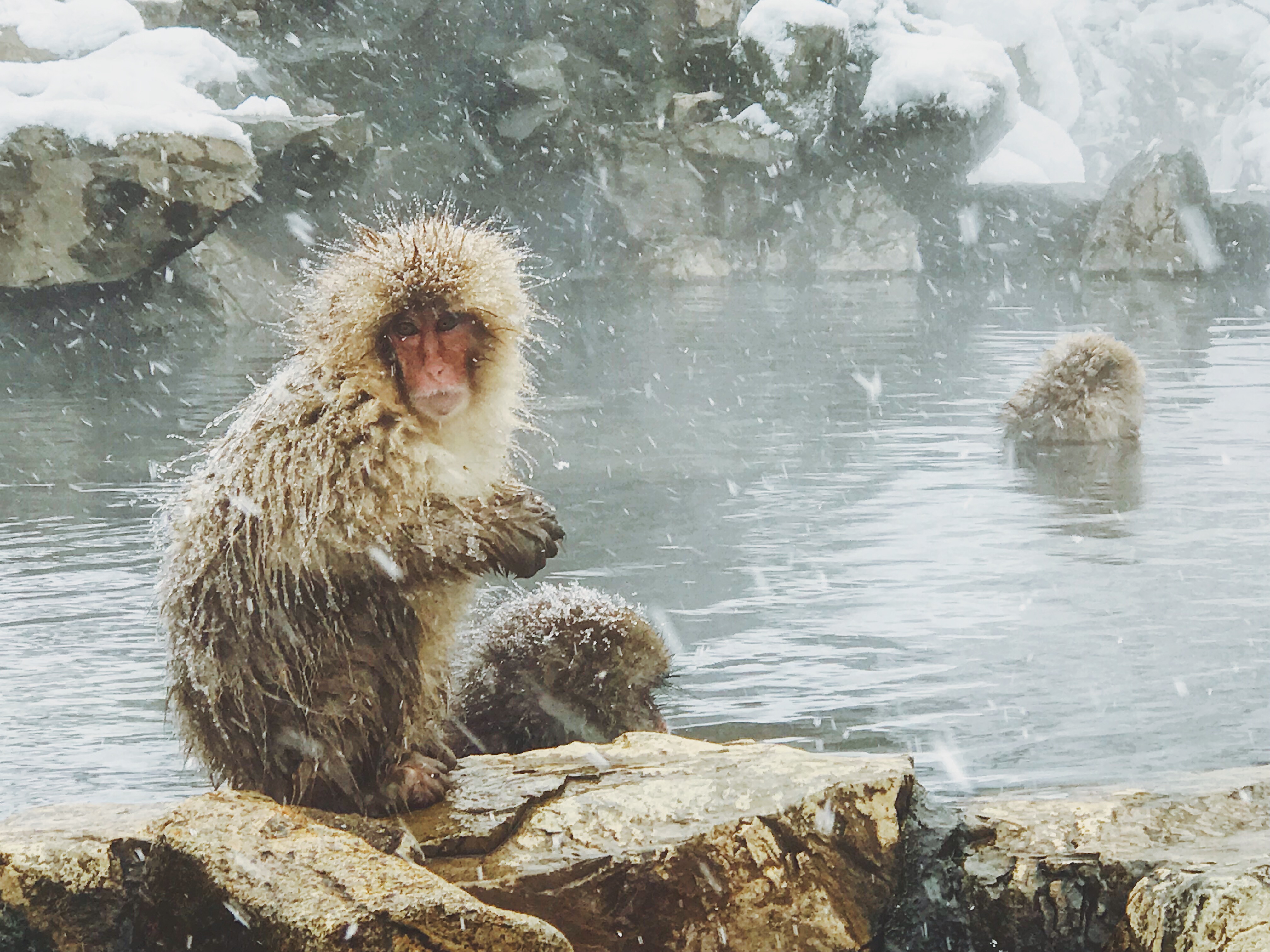 The following morning there were very few other people on the mountain so early, so we could pick a viewing place, and we had practically no wait. About a dozen monkeys arrived very soon after, and it was worth every minute of lost sleep – these monkeys are just amazing! We could have stayed for hours, but a lot of people were arriving and it was difficult to see; plus, at minus 11 degrees, it was cold, very cold!
However, the whole snow monkey experience Is one I would not have missed for worlds, and I would not hesitate to recommend it without any reservation – it was just incredible! As I explained, I was gratefully tagging along with Johnny and his girl friend, who were going skiing in Japan, and they were going via the Snow Monkeys.
The first part was over, (and was one of the best experiences I have ever had) and we had completed the train journey to the top of Japan, and there we were, in Hirafu, Niseko. What a wonderful place this was! The Winter Olympics were held in this general area in 1998, and since that, I understand any number or of ski resorts have been developed, and where we were staying is one of them. Niseko is the general region, and within that are a number of villages; of which Hirafu is one. We were staying in a serviced ski in/ski out apartment, which was just fantastic. You know, it's strange, because at home if we get an inch of snow, everything grinds to a halt; here there was a base of at least 2 metres of snow. And in the previous two nights there has been a fall of 20cm each night, and everything continues as usual.
Obviously, given my physical state, skiing was a step too far for me now, but there was so much more on offer for the non skiers. There were snowmobile tours, gourmet cooking, soba noodle cooking, glass art, various onsens; I could even go sky diving again! These ranged in cost from about £30 for the cheapest to approx £400 for the sky dive, and I imagine the sky was the limit if a personally tailored package was wanted!
Johnny and Jaa skied each day, and took to the slopes like ducks to water, so all was good,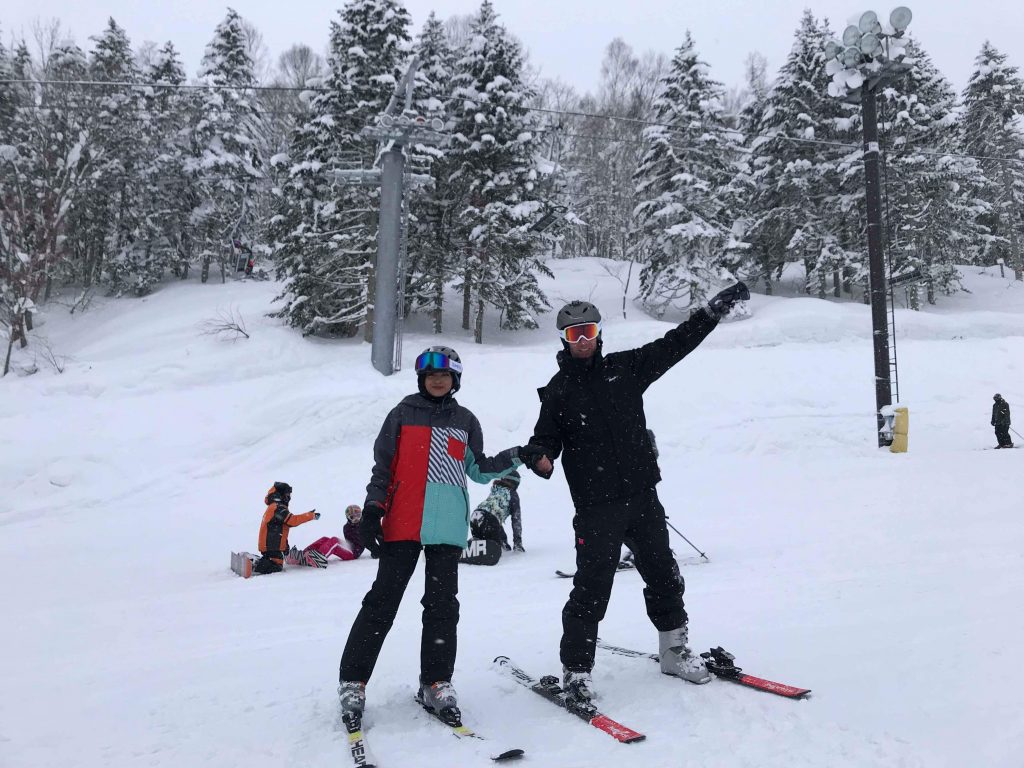 We only had a few days, and left Hirafu, as arranged, at lunch time, and I think we were all sorry to leave. It was a fantastic place, and I would love to see it in summer. An online friend/follower 0f Johnny's made contact and by arrangement, had taken us out the previous afternoon to try to show us some of the countryside. Unfortunately, because of 12 meters of snow, and 1 meter in the previous few days alone, that was difficult. Nevertheless, we were able to see just how beautiful this part of Japan must be. We were taken to Milk Kobo, also known as cream puff heaven!! It was a farm with a cafe and bakery, and their cream puffs are renown – with total justification I might add!! I'm sure when people refer to food of the gods, these cream puffs must be in there somewhere! Things in Niseko went well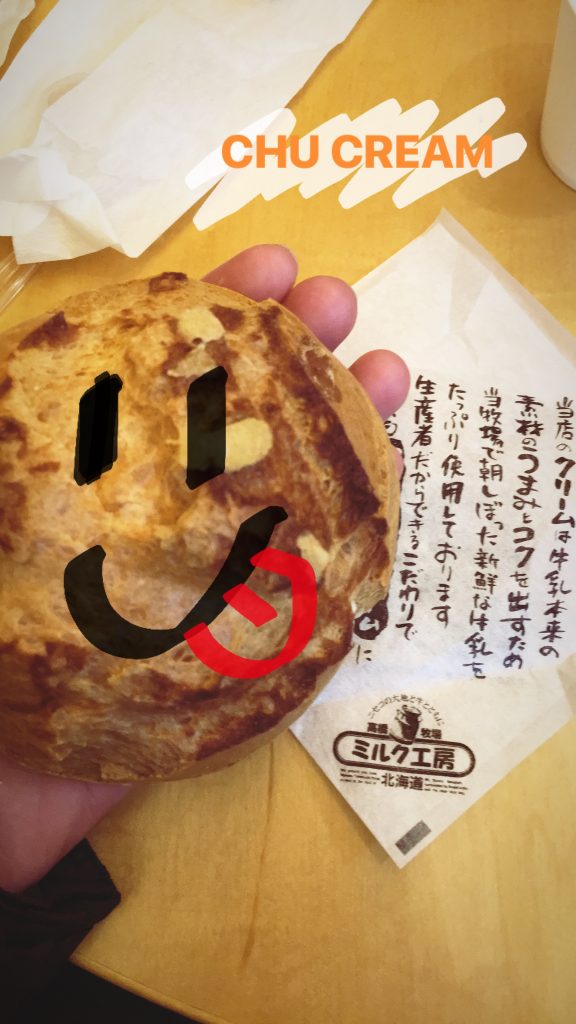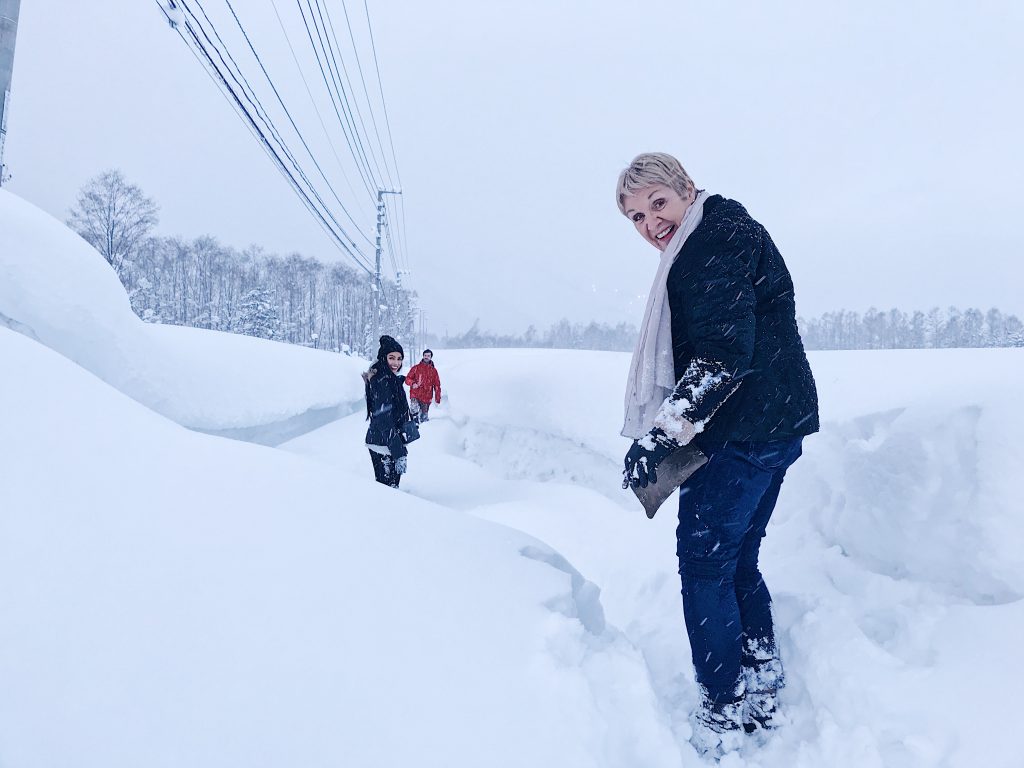 Most of the day we left was spent travelling. We checked out of our glorious apartment at mid day, and left for a 2 hour drive to the airport. A slightly delayed flight meant our planned route was up the left, so we didn't get to our hotel until midnight – a long day! And not any longer by train on the way here!
We arrived in the city of Tokyo so late that night that all plans for that first day were put on hold, apart from Jaa having to go back to work, and so leaving very early for the airport. However, an early morning conversation at breakfast preceded a return to our original idea, so off we went to find a train which would take us to see the fabled Mount Fuji!
When I first caught a glimpse of this Japanese icon out of the window of a plane last week, I felt a bubble of anticipation. Now I was going to get up close and personal.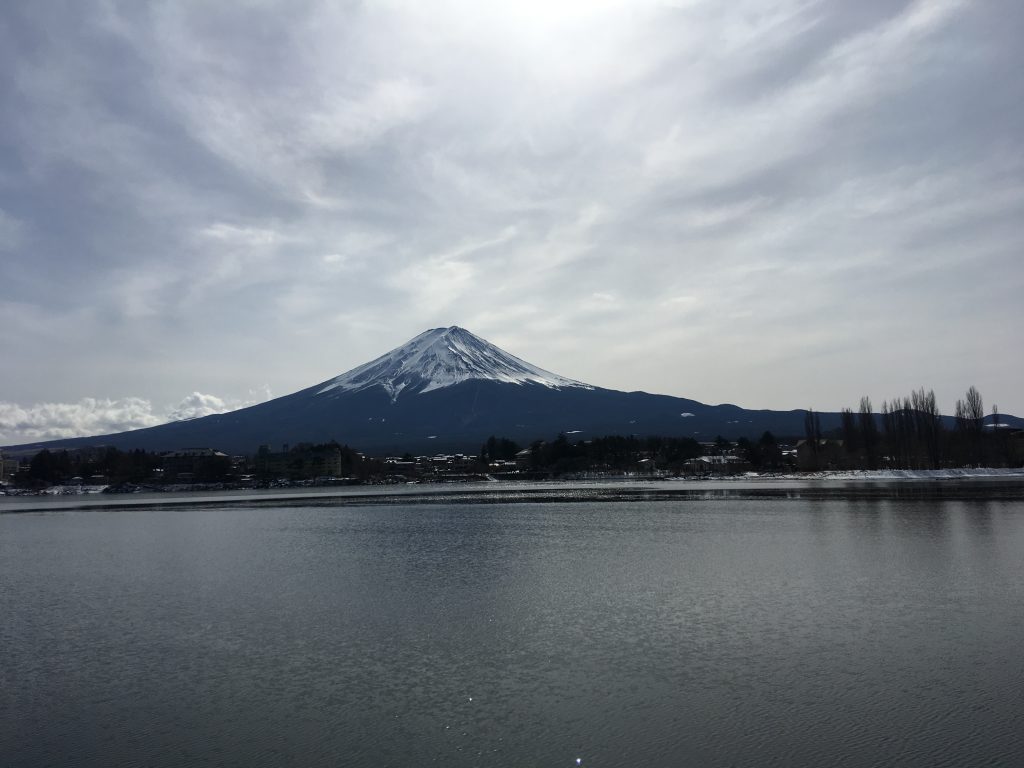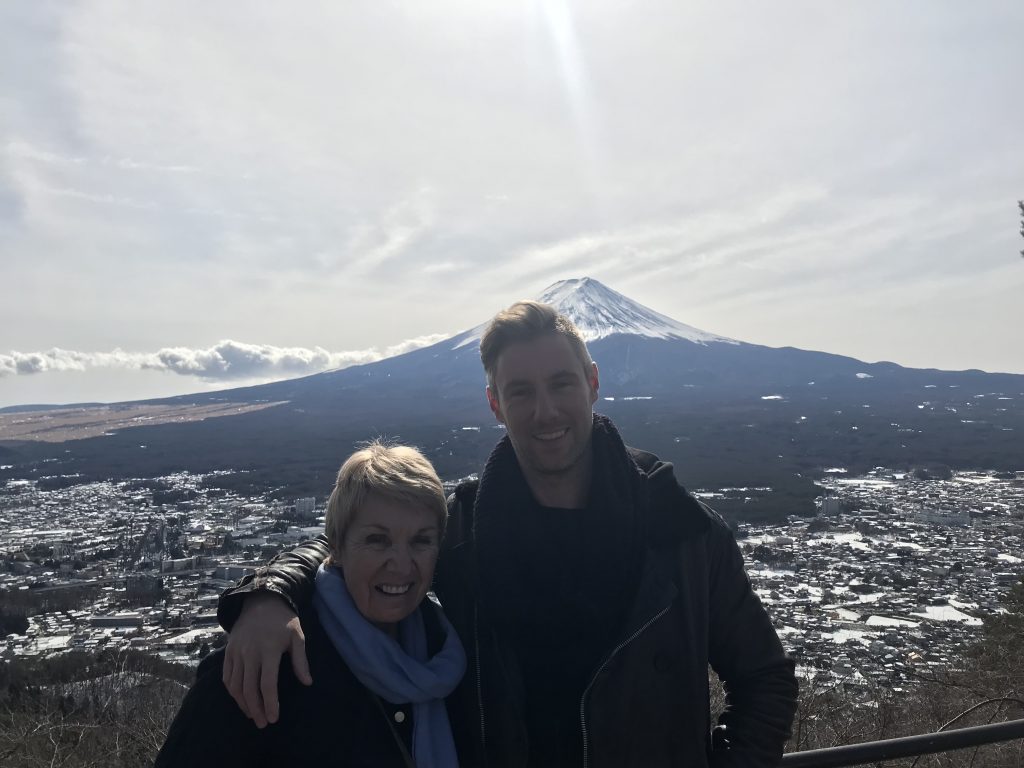 To his enormous credit, Johnny has mastered the exigencies of the Japanese and Tokyo transport systems, and off we went via Metro and train.
The journey took almost 3 hours, but boy, was it worth it? I find it difficult to explain just how awe inspiring the sight was!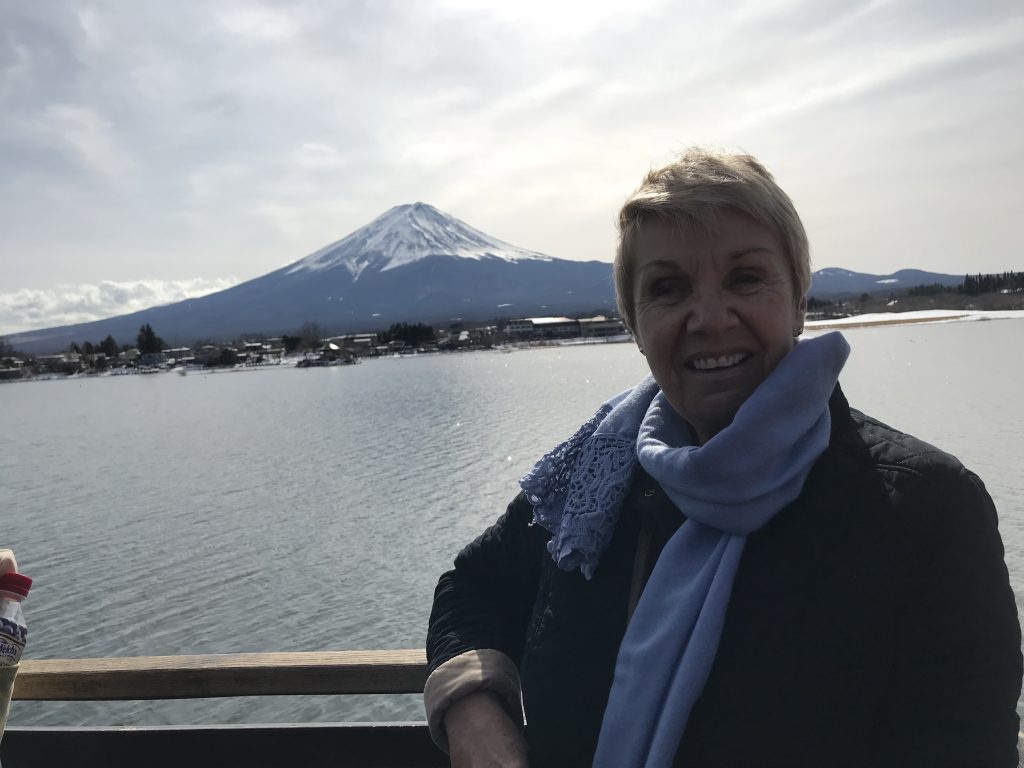 We took a cable car up to the top of a nearby hill, and the views were wonderful. Then we went out by boat onto Lake Kawaguchi for another view, and finally we bussed it to the other side of the lake to view the mountain from there. Let me say, not once did it disappoint! However, Johnny's suggestion that we climb to the top as a 70th Birthday challenge was a step too far
We also had lunch round that lake, and I had my first sample of Japanese or katsui curry. The verdict? Excellent!
Mount Fuji had such an effect that there and then I was questioning whether or not I should consider climbing it as a 70th birthday challenge.
On day 2 in Tokyo, Johnny drew up a 2 day plan for us to visit Tokyo's must sees. By 23.00 that night we had completed 95% of that tour, and had climbed 24 flights of stairs or steps and walked 11.5 miles in the process!
Tired body notwithstanding, it was a fantastic day, although the weather was awful with the rain and drizzle incessant.
We started off by taking the train across Tokyo port, to an area which can only be described as bizarre! It consists largely of shopping malls, with the attendant extras.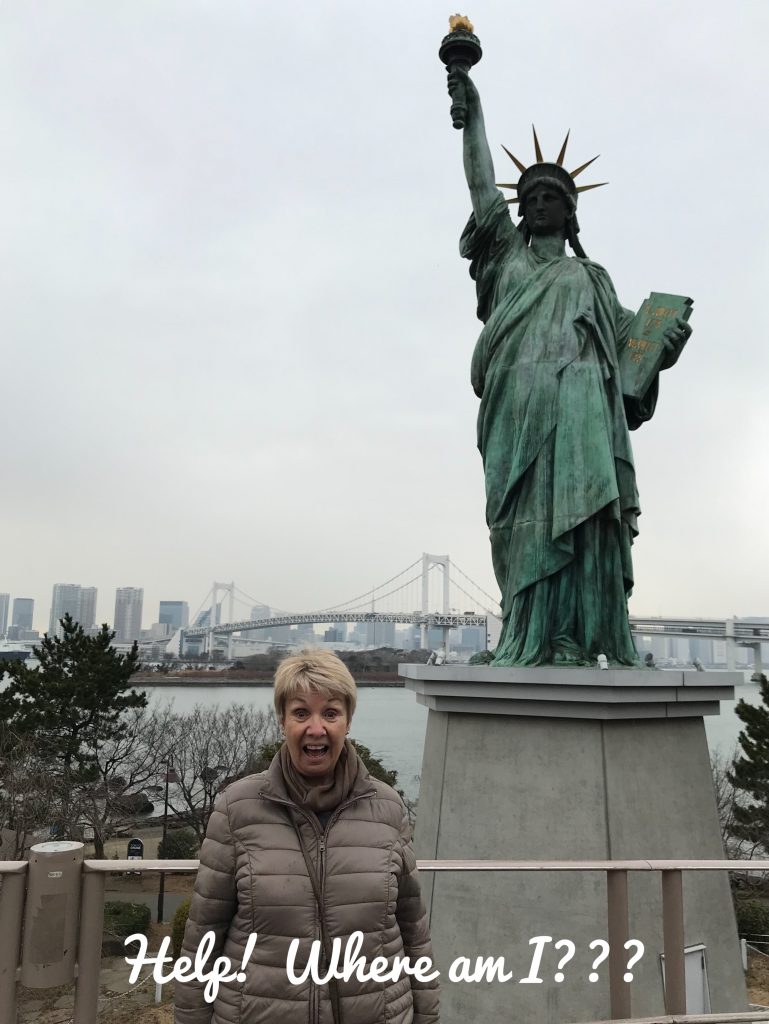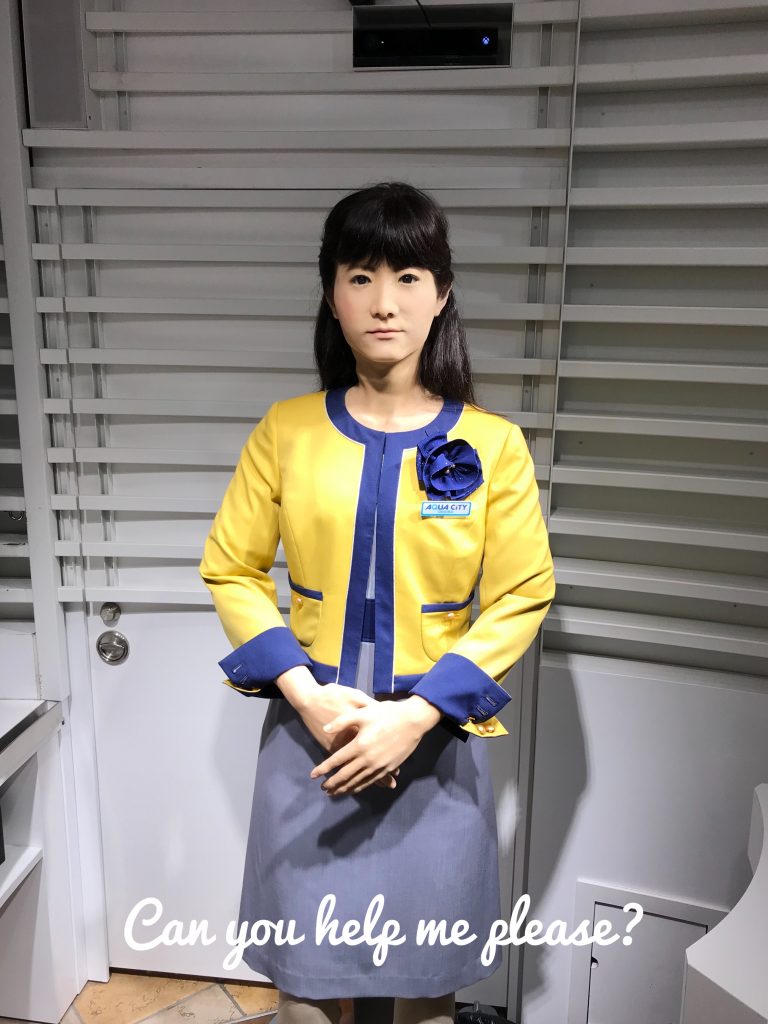 Theres's the Statue of Liberty mall, Venusfort mall is a homage to Venice, complete with varying skies, and many more. One of the information booths was manned by a helpful young lady who turned out to be a robot!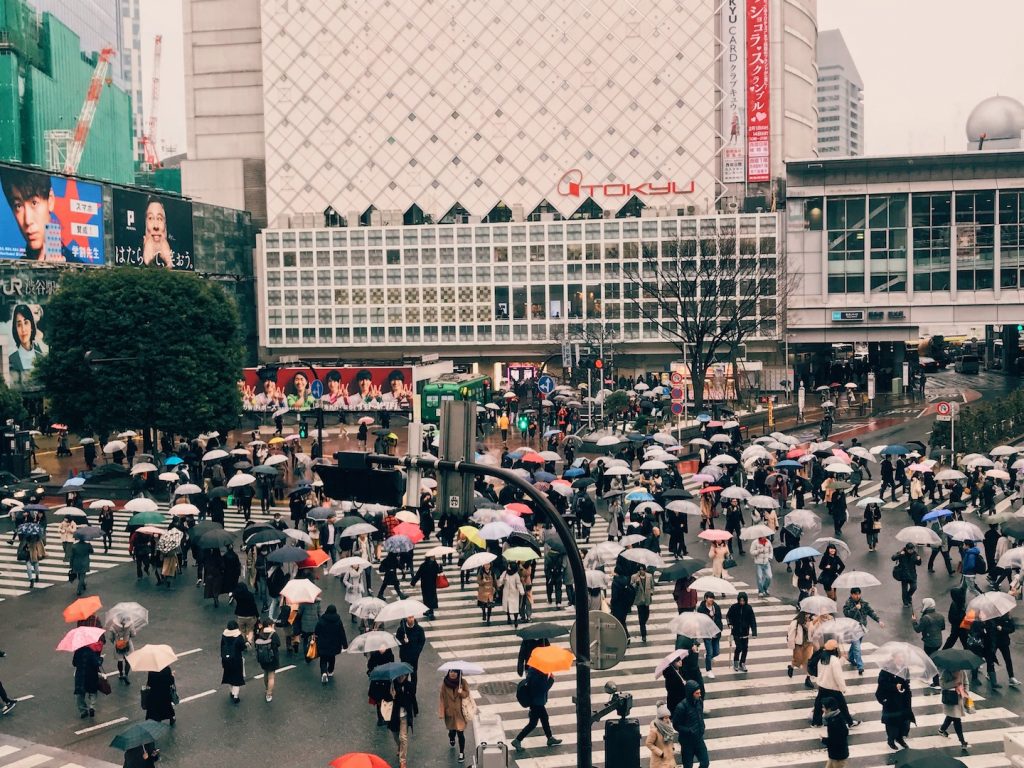 Then we went to Shibuya Crossing, deemed the busiest pedestrian crossing in the world.  not surprisingly, there is the ubiquitous Starbucks on the corner of Shibuya Square, and their upstairs has great views of the crossings – if you can get anywhere near a window!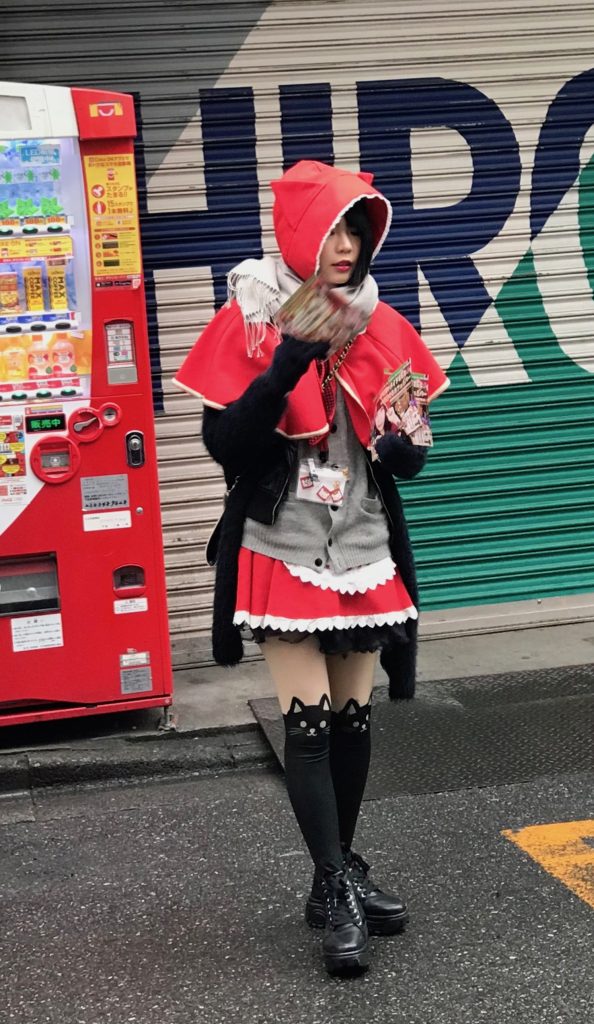 Takeshita street was next, to see any Cos players. Short for Costume players, this is a peculiar phenomenon where adults spend their lives dressed as cartoon characters. The wet and miserable weather must have had an effect because we only spotted a couple.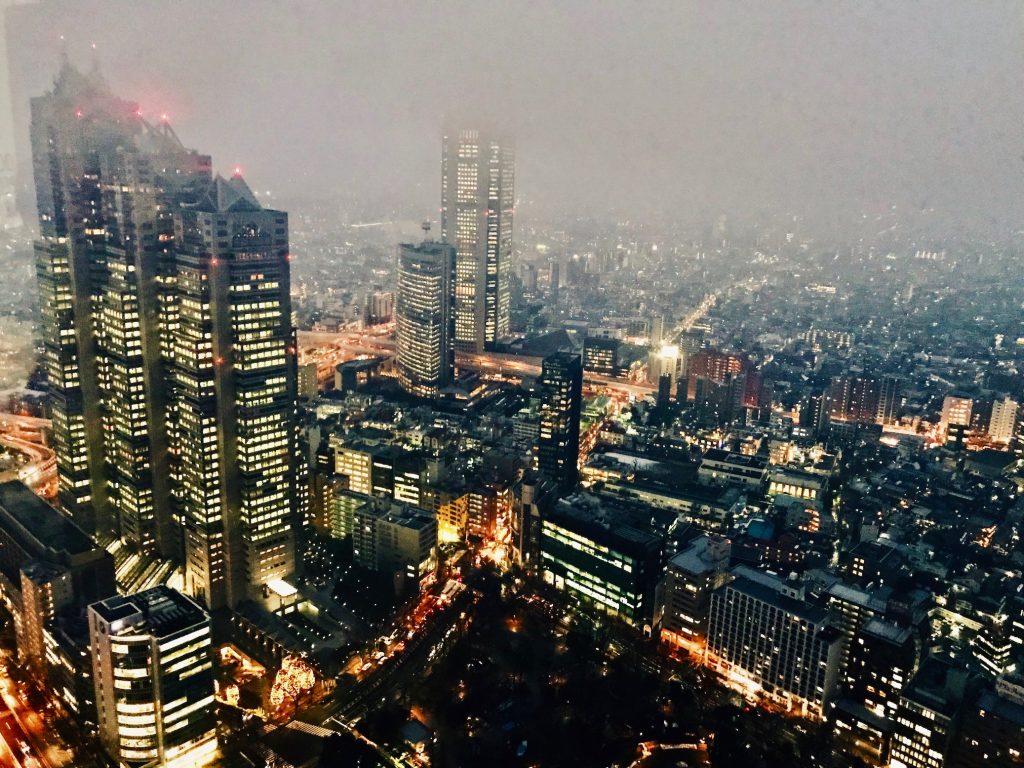 The penultimate stop was Tokyo Metropolitan Government Building where the is a 360 degree observation room on floor 42. Because the weather was so awful, we didn't get the full benefit of this, but the all round views were still incredible.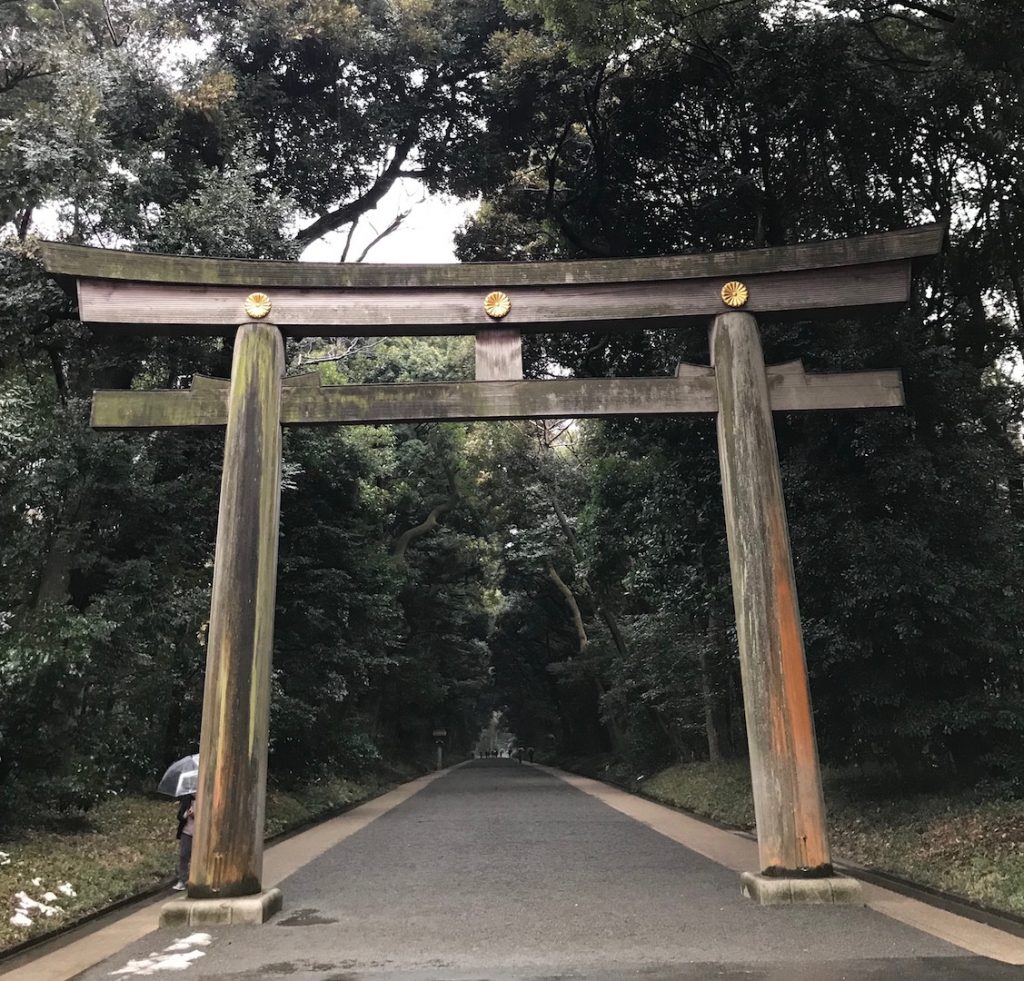 A more cultural visit next, to Meiji Shrine, situated in an enormous park in the middle of the city.
After Thursday's marathon, we wanted to take things easy on Friday, but it was the last sightseeing day in Japan, so it was only fitting that the 2 main sights we saw just happened to really contrast the old with the new.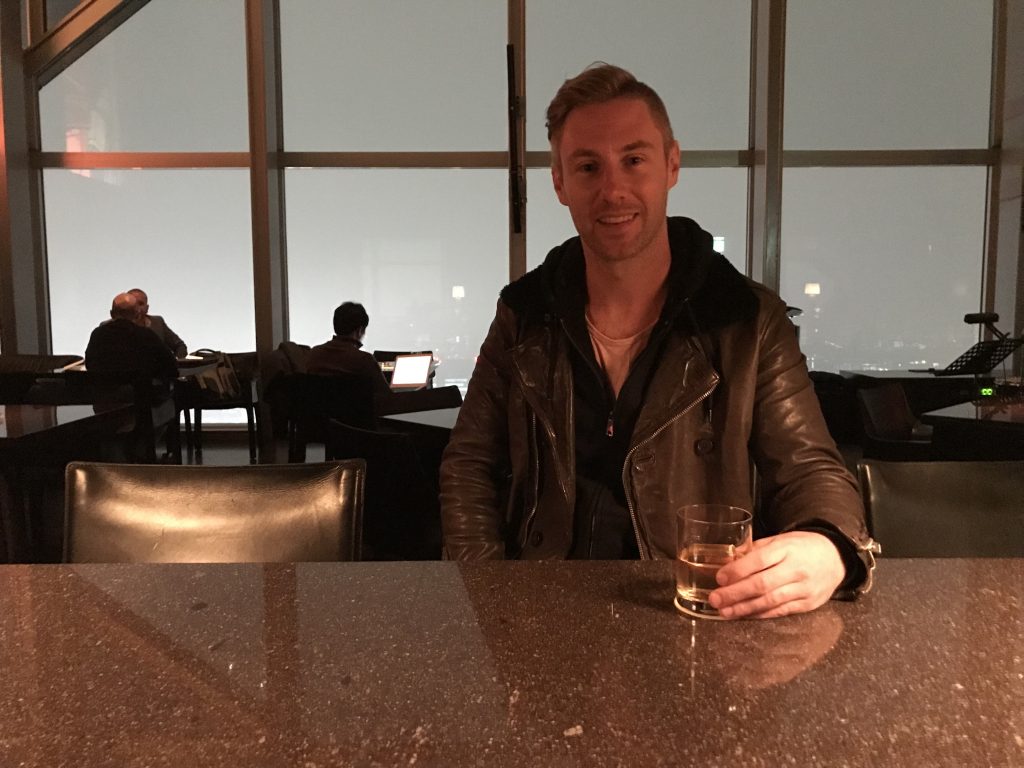 The last stop was to allow Johnny to pay homage to his favourite film. Lost in Translation, starring Bill Murray, was set in Tokyo, and in the New York Bar of the Park Hyatt Hotel. Johnny got to sit in the same seat and have the same drink. The only difference was that I don't think Bill Murray would have paid the same eye watering price!!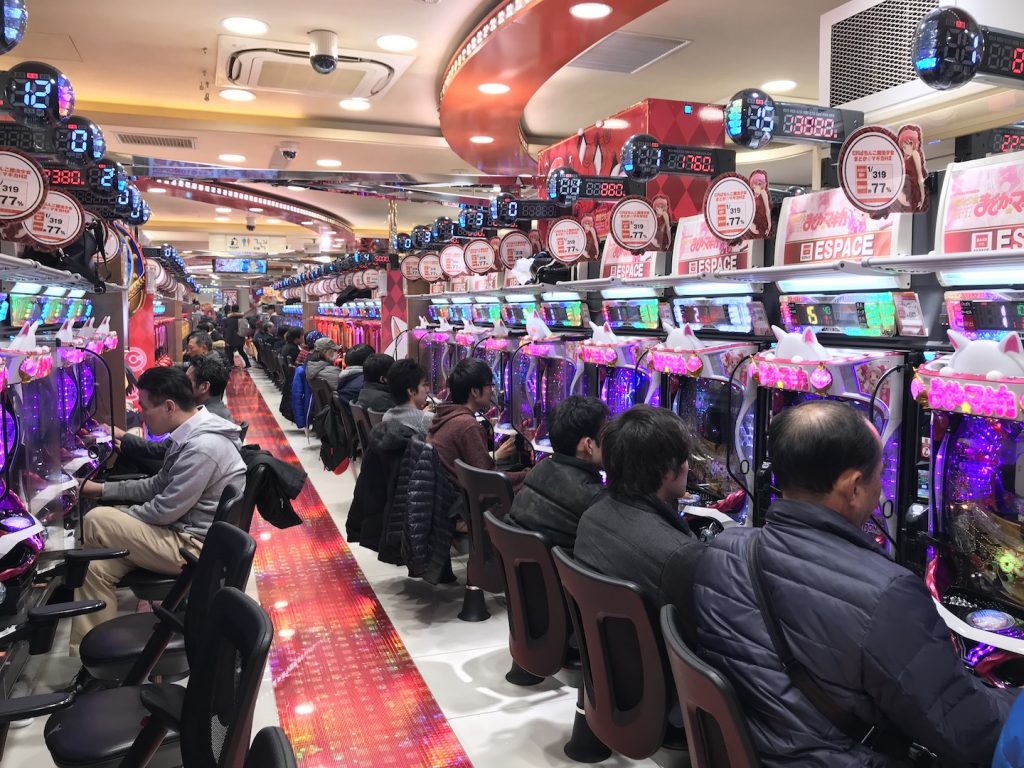 We started off at Akhiabara, an area on the outskirts of the city completely devoted to gaming, computers, technology and their workings. I was mesmerised! I still find the gaming compulsion difficult to comprehend, but the sight of all these people from all over the world totally engrossed in what actually is a computer game, left me gobsmacked! There were also rows of pinball machines, and I saw one lady with about 3 plastic baskets full of tiny pinballs! Amazing!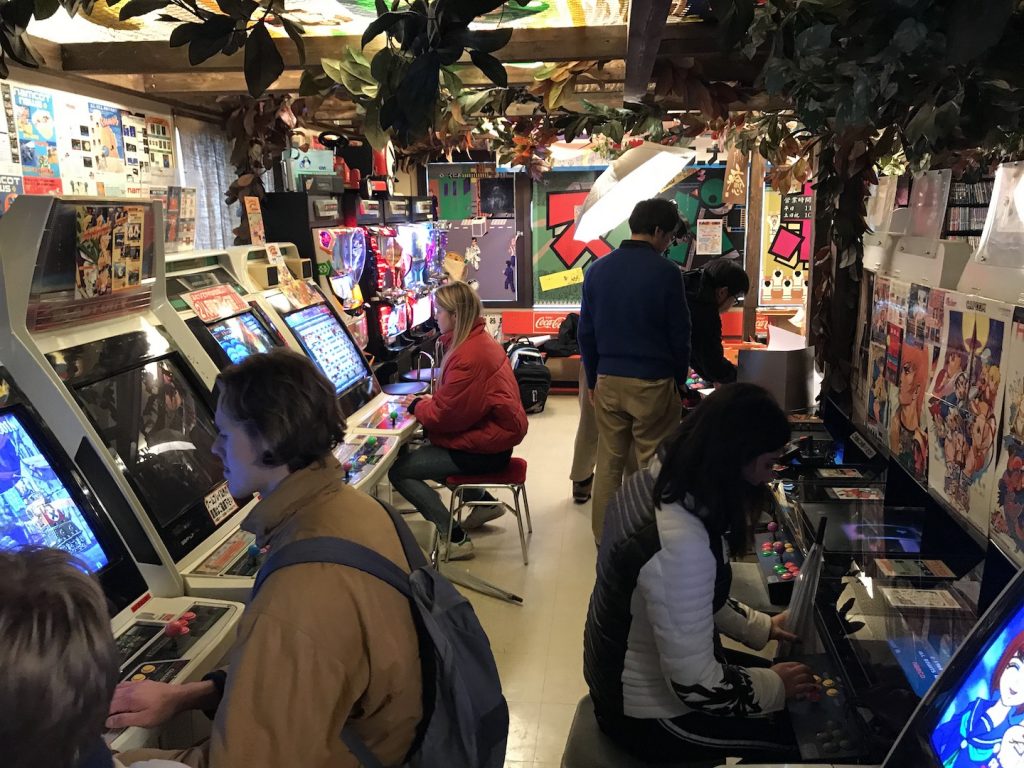 The contrast came when we went a few metro stops away to Sensoji Shrine. It too attracts hundreds, but this is a building which has been there for centuries. Overlooking the shrine is another monument to the modern Japan, the Sky Tower, all 338 metres of it.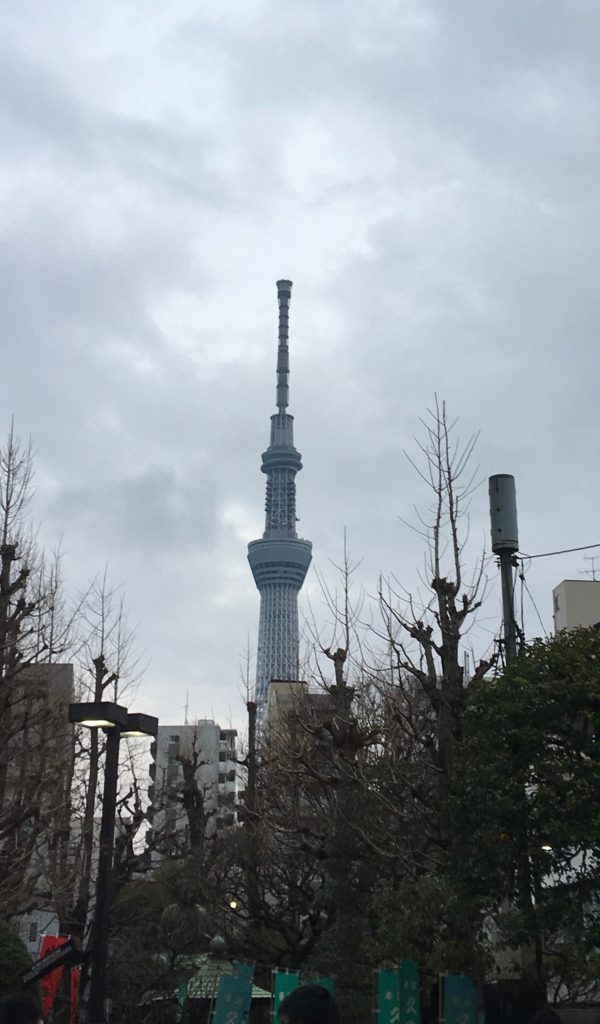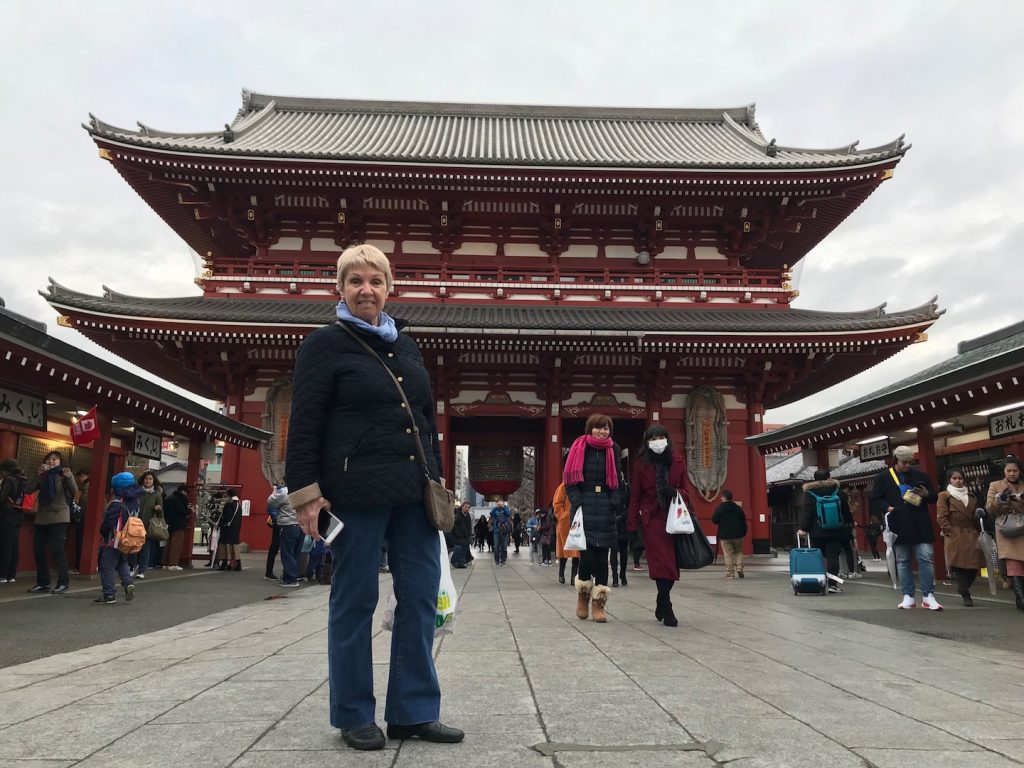 On the way back to the hotel, we wandered through what seemed to be an area for clubs and bars. We stopped in one place and had a relatively early meal, and returned to the hotel to pack and have an early night.
Just over 5 miles today, and dear only knows how many flights of stairs, so as I said, a lazy day – not!!
I thought, Japan, you have been utterly, and unexpectedly, compelling, and I will be back!
Footnote: And I was back a year later – see my post about Mount Fuji!
Please follow and like us: