Kelly's Courtyard Hotel, Beijing
I came across Kelly's Courtyard Hotel in Beijing purely by accident – and what a happy accident it turned out to be.
I was spending a couple of days in Beijing over Chinese New Year before moving north to visit the Ice Festival in Harbin, and I wanted a hotel or hostel which was central, safe and not too expensive. My research turned up Kelly's, and the reviews I saw were positive, so I booked.
From the outset the experience was positive – the manager sent me instructions on how to get to the hotel, with the destination also written in Chinese characters, which he advised I print out and show to the taxi driver. (Because of New Year public transport was virtually non existent)
The hotel is situated in a traditional hutong (alley), and thus not very prepossessing from the outside. In fact the only visible sign from the hutong is a large door.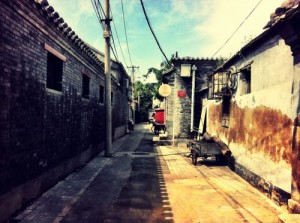 Inside was a whole different ballgame. The small reception area opens out onto the courtyard from which the hotel takes its name, and all eight rooms are arranged around this courtyard.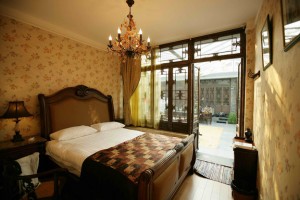 It is truly a little oasis in the middle of a city. There is also a rooftop terrace from where you can see over all the local hutongs. It would be a fantastic place to have a cup of coffee or a drink in the warmer weather, but not in February when I was there!
The manager/general factotum is Bob, and he is amazing. His English is very good, and though not a local, his knowledge of Beijing is second to none, plus he can arrange day trips, trips to various Chinese theatres, and recommend restaurants. As I say – amazing!
The hotel is furnished with antique looking furniture, and the beds and rooms are very comfortable and clean. Breakfast is the continental kind, and is served in the courtyard.

There is free WiFi, but be warned, it can be painfully slow.
Public transport is easy – there are two metro stations, Xisis and Lingjing Hutong, less than 500metres away, and also many bus stops, – from which it is possible to get to most of the must sees in Beijing.
Because the hotel is so central walking to many of the big sights such as Tiananmen Square, the Forbidden City, and Chairman Mao's Tomb, only takes about 30 minutes, and offers the chance to have a wander a little bit away from the tourist hotspots.
Beijing is becoming more and more cosmopolitan, and has hotels to match. Instead of one of the big chains, try Kelly's, it is quirky, and different, and to my mind, a great experience.
Please follow and like us: