One day in Lisbon
I have to confess I was completely ignorant about Lisbon.  I had no idea of the history, of the beauty, of the architecture.  In fact I had no idea about anything about Lisbon or Portugal other than a little bit of advance research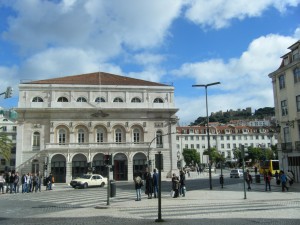 Did I ever get a surprise!  Lisbon blew me away (almost literally one of the days!).  Capital of Portugal since 1147, it has centuries of history.  It is a wonderful city to visit, a wonderful place to spend a few days, and seems to combine old and new quite seamlessly.  There are jaw dropping sights, delicious food and drink, and warm friendly people, all of which conspire to make this a fabulous break.
There is so much to see, and with so many cheap flights to Lisbon, I have no idea why it's not more popular with 'city-breakers'. I found the best way to plan was to see all immediately round the centre one one day and the Belem area on a second day, and then, time permitting, a visit to Oceanarium and the Parque des Nacoes in northeastern Lisbon after that.
Where to start with Lisbon centre?  The heart of the city, the Baixa, is apparently being considered for UNESCO World Heritage status, and it's not difficult to see why.  This is a network of squares built after an earthquake in 1755, and each square is beautiful, the predominant ones are Praca do Rossio, which means most important square, where lots of small restaurants and coffee shops can be found, and Praca dos Restauradores at the end of the Avenida da Liberdade, one of the most important avenues in the city.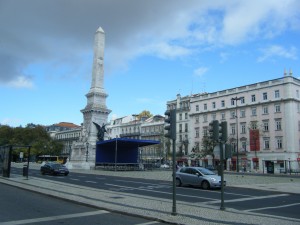 Because Lisbon is a city built on seven hills, there are lots of very steep streets, and to aid passage up and down these, there are lifts, or small trams which travel from top to bottom – great fun, and much easier on ancient knees.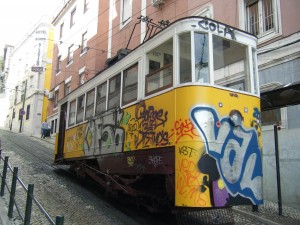 There is also the Elevador de Santa Justa, an actual lift built by an apprentice of Gustave Eiffel of Paris fame.  It is an incredible sight, and can be used, with just a day bus/Metro ticket to go between the Baixa (downtown) and Bairro Alto (high area).  It is also possible to on to the top of the Elevador, but it costs more, and I was advised there are better city views to be had nearby for free!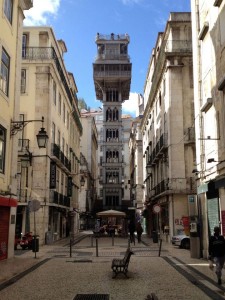 At the top of Lisbon's highest hill is Castel de Sao Jorge. Originally built in the 5th century, it has been added to over the years, and restored quite recently (in fact archeological digs are on going). It is possible to go up to the battlements, and the views over the city are magnificent.
A visit to a bottle shop, and a glass of port with some cheese and olives rounded off a highly enjoyable day.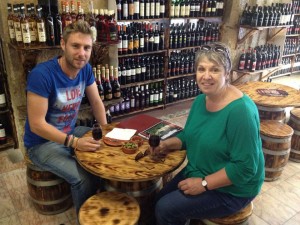 Please follow and like us: