Why Gran Canaria Is Europe's Best Golf Destination
Golfers and their sun-seeking partners will be delighted to know that Gran Canaria has this year been named Europe's top golf destination. So what does this beguiling island offer to earn the crown of Europe's best golf spot?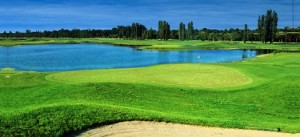 Exciting Developments
The island, which is the third largest in the Canary archipelago, won the award for Golf Destination of the Year in Europe at a gala awards ceremony, organised by the International Association of Golf Tour Operators (IAGTO).
The awards were established in 2000 to honour the best in the world of golf. Since their inception, Gran Canaria has constructed six new golf courses – El Cortijo, Salobre Campe Norte and Salobre Campe Sud, Lopesan Meloneras and Anfi Tauro – which now attract golfers from all over Europe.
A Golfing Tradition
In addition to offering golfers six new courses, Gran Canaria is home to the oldest golf club in Spain, the Real Club de Golf de Las Palmas. Founded by the British in 1891 – and designed by Mackenzie Ross – the course is also one of the oldest in continental Europe.
Great Courses
Those that have played in Gran Canaria will tell you that the golf courses in Gran Canaria are among the best in Spain. Carefully designed by professionals, Gran Canaria's golf clubs provide an opportunity to play on a championship level course with unbeatable tranquillity and exceptional scenery.
A Choice Destination
As well as offering fantastic golf, Gran Canaria boasts a number of other attractions, which will ensure golfers' friends and families can enjoy an unforgettable holiday, while the golfers in the group work their way through the incredible courses around the island.
The south is home to the most popular holiday resort on the island, Playa del Ingles. The buzziest of all the tourist areas, holidaymakers can enjoy a large beach with golden sand and great shopping and dining opportunities, as well as some lively nightlife.
Nearby Maspalomas enjoys a more relaxed pace of life, while offering some of the smartest hotels Gran Canaria has to offer.
Puerto Rico, on the south coast, claims to offer more hours of sunshine than anywhere else in Spain and is a great base for family-friendly beaches and facilities. Finally, Bahia Feliz is a fantastic choice for anyone looking for quiet relaxation amongst colourful gardens and parks.
Year-Round Sunshine
Whatever time of year you visit Gran Canaria, you can expect to enjoy a spring-like climate, with daytime temperatures that rarely drop below eighteen degrees Celsius. With excellent food, friendly people, spectacular scenery – and now an award-winning golf scene, too – it's easy to see why Gran Canaria is becoming a favourite destination for ever-growing numbers of golfers.
Please follow and like us: