4 Things to Look for in a Lake Tahoe Hotel
The first part of choosing a Lake Tahoe hotel is deciding where in Tahoe you'll want to stay.  There's about an hour's difference between the North end of the Lake to the South end, and while you can find awesome ski resorts, trails and views in both spots, many travelers prefer one area to the other. If you decide that you want to stay near all the best nightlife, convenient to the casinos and bars among the crowds of other Tahoe travelers, you'll probably want to stick to South Lake Tahoe. If you'd prefer a more secluded and quiet area, North Lake Tahoe might be for you. Once you've decided the area of Lake Tahoe you want to stay in, the rest is just logistics.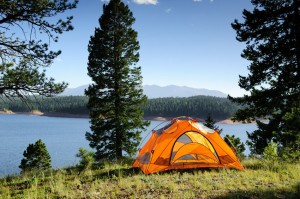 A Great View
Many of the Lake Tahoe hotels offer beautiful views of the surrounding mountains and the Lake. The Lakeshore Lodge and Spa in South Lake Tahoe has awesome views of Lake Tahoe and the mountains that surround it from all of the rooms, as well as the pool! Relax and unwind everywhere on this property, including their spa, and soak in the views that make this hotel a top choice. North Lake Tahoe also has tons of views, and many of the hotels here have grand picture windows that let you enjoy panoramic views of all the nature surrounding you. Whether it's the Lake, the mountains, the forestry or the nearby ski resorts, it's easy to find hotels with a view in these parts.
A Private Beach
Private beaches are about as common in Tahoe hotels as free Wi-Fi is these days. Private beaches sound like something that can only be found at some of the ritziest hotels, but actually even many of the motels and vacation rentals in Tahoe have their own piece of beach that provides travelers with privacy and lighter crowds.
Ski in/ski out Access
During the winter, ski in ski out hotels are a huge deal. Quite a few hotels and rentals have this access in Lake Tahoe. Step right out of your door, click on those skis or strap on your snowboard and head right down the slopes. When you're done for the day, ski right back up to the door – no shuttles back to the for you! Who doesn't love that kind of convenience?
A Casino Hotel
While many people come to Lake Tahoe for the skiing, the hiking, the water sports, the mountain biking and all the other things you're going to be doing during the beautiful days spent in these parts, hotels with casino in Tahoe give you plenty to do during the night! Several casino hotels are located around North and South Lake Tahoe and are still convenient to all the things you're going to want to do during the day. Many of them have much more to offer than just gambling though, as they host concerts all year long, have movie theatres and bowling alleys!
While most people don't spend that much time in their hotel on their trips to Tahoe, it's nice to have these special amenities that make life a little more easy, or give you plenty to do once the sun sets!
This article was written by Lizz Riggs, editor of TahoesBest.com.
Please follow and like us: