A weekend in Barcelona
With so many cheap flights available, it's so much easier to see different places around Europe than it used to be. So, where we used to go off to London or Edinburgh on the train for a weekend away, now the whole of Europe is our oyster. And there are just so many places to go!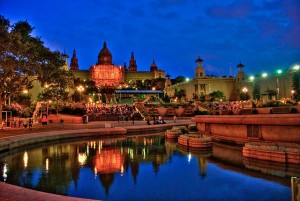 Whether you want a weekend on the beach, or a weekend of art and cultural visits, all you have to do is look up what flights are available at an airport near you, and decide which one takes your fancy. With so many flights available with different budget airlines, there's always a bargain to be found too. Sometimes flights are so cheap that you can even just choose the cheapest destination at random and see what it's like when you get there.
Flights to Barcelona are often good value, as it's such a popular destination. It's a great place to spend the weekend as you can get around the city really easily and there's so much to see in this vibrant and bustling city.
Probably the most well-known street in Barcelona is Las Ramblas. This is a great place to spend a few hours, whether you're just strolling along stopping to watch the street entertainers who gather there or if you decide to stop for tapas at one of the many tapas bars you'll find in the area.
The Spanish Village is a great place to see replica models of different famous squares and streets of Spain all in one place. Built for the 1929 Exhibition, this attraction has been drawing visitors ever since. There are lots of craft workshops producing typically Spanish goods here too.
And for people who are fans of Antoni Gaudi, a trip to see the Sagrada Familia is a must. This giant temple is still not finished and it's been under construction since 1882. It has ardent fans and other people dislike it intensely – go and see it for yourself to decide which camp you're in!
Of course, there's much more to see in Barcelona. It depends on how much time you have there, but of course, you could always go back on another cheap flight!
Please follow and like us: