A Weekend in Riga, Latvia
I had a break in Tallinn in Estonia a few months previously, and thoroughly enjoyed it. So much so, in fact, that I promised myself I would visit other Baltic capitals, and thus I booked a weekend in the Latvian capital, Riga.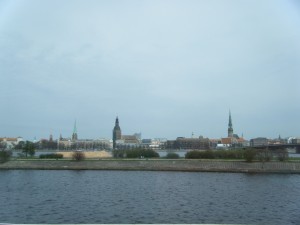 Along with other Eastern European cities, Riga has the somewhat dubious reputation of being a mecca for stag and hen parties, and consequently I was a little apprehensive, not least because my flight did not arrive until late on a Friday night. I need not have worried – yes, there were groups of what appeared to be hens and stags, but while loud, even raucous, they were not at all intimidating, and just seemed to be intent on having a good time.
Because of my very late arrival, I had taken the unusual (for me) step of organising transport with my hotel, even though the airport is only a few kilometres outside the city. What luxury! I was met by a suited chauffeur, and ushered to a limousine. My driver told me my hotel had been overbooked, and they had arranged an alternative – a five star alternative! Within a few minutes, Riga was looking like my kind of place!
My hotel was indeed first class, and was even more central than my original choice. This proved ideal because early the next morning, after breakfast, I set out to explore.
There is much to see – the display of Art Nouveau architecture is the largest and most remarkable in Europe, and the Old Town of Riga, founded in 1201, has been designated a UNESCO world Heritage Site. Riga has been fought over and occupied for much of its past, most recently in World War 2, when it was almost razed to the ground. It says much about the people that the city has been able to rise from those remains and become the vibrant city it is today.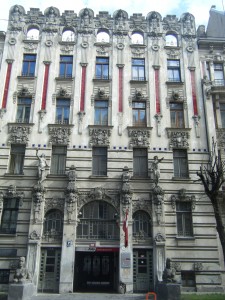 As with most European cities, there is a hop on/hop off open top bus tour available, leaving the centre of town regularly. As ever, I would suggest that this is a great way of deciding which sights are worth seeing, and which can be given a miss.
The main sightseeing part of the city is on the eastern bank of the river Daugava, but the bus takes in the western bank as well, and the new National Library, which was under construction when I was there, is regarded as an architectural masterpiece, and is certainly worth a photograph or two. There are five bridges spanning the river, and travelling on top of the bus on these gives a wonderful panoramic view of the Old Town and its many sights.
Because there is so much worth seeing in Riga, see my post '48 hours in Riga' for more information.
Please follow and like us: