The Top 5 Places to Take Your Grandkids in Chicago
Traveling with young kids is always fun, but they don't always want to go do the things that you want to do. Most young children don't want to spend 4 hours in an art museum no matter how famous the paintings are, they don't want to go out and try a bunch of new kinds of foods and they unfortunately don't want to learn about all the architecture and history in Chicago. While those are all extremely popular Chicago attractions, there are still plenty of things to do in Chicago with kids that they will love, and you'll enjoy too!
Navy Pier
The number one attraction in Chicago is the Navy Pier. There are tons of things for families to do while they're here, from rides to restaurants, and there are plenty of opportunities for sightseeing and photo ops that you can put in your scrapbook to cherish forever! Many kids love the legendary Navy Pier Ferris wheel that's 150 feet high! Also at the Navy Pier is the Chicago Children's Museum, which is an educational and interactive way to keep kids entertained for an afternoon.
Shedd Aquarium
Who doesn't love a good aquarium? And Chicago has one of the best there is! This is one of the largest indoor aquariums in the entire world, and they've got a great selection of fish and mammals that your kids will love seeing and learning about as much as you do. Check out the Pacific white-sided dolphins doing tricks and learn why the beluga whales are called the "canaries of the sea." There are over 25,000 fish and animals to see while you're here, so rain or shine, this is a great way to spend the day with kids.
John Hancock Observatory
Even kids that are afraid of heights forget about that once they're at the top of the John Hancock Center. The view of Chicago from the John Hancock Observatory is unbeatable and no Chicago traveler should go home without spending at least 15 minutes here. From up here you can see the miles of Chicago beaches, city skyline and four states: Illinois, Michigan, Indiana and Wisconsin. Kids love all that they can see from up here, and all of the other great things to do at the John Hancock Center like well known store and popular restaurants. Treat them to a slice at the Cheesecake Factory after they've spent the day sightseeing!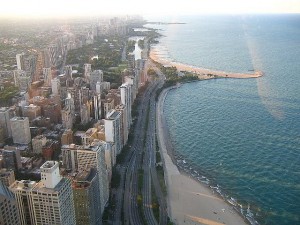 The Field Museum
As if you really need more incentive to visit the Field Museum than to see Sue the T-Rex, right? Every kid loves Sue, the most complete T-Rex in existence right now, but this museum also features interesting exhibits on various cultures, animals and sea mammals, mummies, fossils, special gems and more. There are tons of hands-on exhibits to keep kids engaged and entertained the whole time, and if they aren't worn out after a few hours, there's a Family Play Lab where they can really let loose and burn some energy.
A Boat Tour
Many people really enjoy all of the tours in Chicago, but most kids don't want to sit on a bus for hours and they get really tired walking around the city. Boat tours are the perfect opportunity for everyone to see and learn about Chicago though. The guides are highly entertaining, so kids are learning about the city without even realizing it. The views are amazing and being on a boat is always entertaining. There are several options for boat tours in Chicago, from the fast paced speed boat tours to water taxis to lunch and dinner cruises. Choose the tour that works best for your family!
You don't have to sacrifice all of the great things to do in Chicago when you're traveling with a younger crowd with different interests. There are so many great things to do here that interest the masses. Chicago is a people pleaser for kids, as well as the kids at heart!
This article was written by Lizz Riggs, editor of ChicagoTraveler.com.
Please follow and like us: