Best hotel in the Middle East?
The Chedi, Muscat
Recently I spent a few days in Oman, a state at tuhe mouth of the Persian Gulf, bordered by Yemen and the United Arab Emirates.
I was with my son, and he had arranged for us to stay for a couple of nights in the capital, Muscat, at The Chedi, Muscat, so a huge thank you to him and everyone else involved in our stay. As usual, I had a quick glance at a hotel site to check out the accommodation (we have had some humdingers in the past!!), and I was more than happy with his choice. In retrospect, I wish I had looked a bit closer, because The Chedi, is something else, and I could have enjoyed the anticipation as well as the experience!
We arrived in Oman separately, and I was met at the airport by a driver and air conditioned limousine. The driver was so informative about Oman, and that background information was really interesting and useful.
After a short drive, we turned off the main road into what appeared to be a large private estate where I could see a number of low rise, white painted buildings – a winding drive through exceptionally well kept grounds (21 acres apparently) along the water's edge, and we arrived at reception.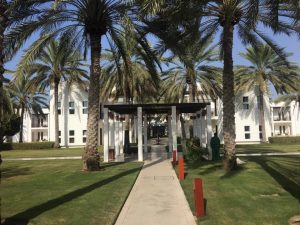 I was taken through the reception area into the wonderfully designed and relaxing lobby, which is apparently designed to resemble a Bedouin tent, and was given a fruit drink while the registration procedure was painlessly and efficiently completed.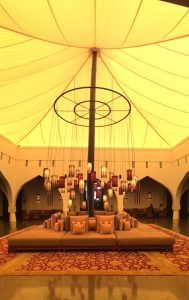 Then I was taken to my room. This entailed a short walk outside through the most impeccably kept gardens with small pools, where the prevailing atmosphere was one of relaxation and calm.
We arrived at a two storey white painted building, and I was shown into a ground floor sitting room, which was cool and had couches round the walls, occasional tables, a desk, a television, and a mini bar.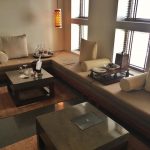 But no bed! For a short few seconds I wondered if one of the couches was a put-up bed, but then the staff member who was showing me the room showed me through a door to the bedroom!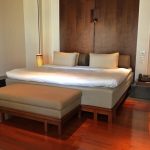 Yes, it was a suite! I haven't ever had a suite to myself before, and what a way to start! It was just perfect.
The bedroom had a king size bed, and a large screen TV, but other than side tables and some seating, little else. This room was definitely designed for winding down, relaxing and sleeping, and if that was the intention, it was entirely successful as far as I was concerned.
Leading off the bedroom was the bathroom, and what a bathroom!! Tiled in grey slate, with low, and task centred, lighting, there was a wash hand basin and wardrobe at each end of the room.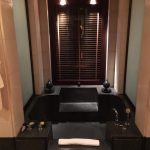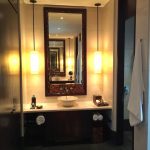 The loo and bidet was at one end, and at the other end, a walk in shower room, with both power and ordinary showers. In the middle was a huge sunken bath, and all these with complimentary Aqua di Parma toiletries – luxury indeed!
There was also a small patio with table and chairs, looking out to the sea.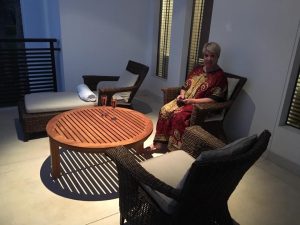 It was so perfect, I could happily have spent the two days without leaving the suite.
However, I did leave, and discovered that throughout the resort, everything else maintained the same sky high standards of cleanliness, care, attention to detail and luxury.
Because it was out of season and Ramadan, some of the facilities, including a couple of restaurants, were closed, and the hotel was quiet. This had no effect on our enjoyment of the food because the main restaurant remained open and there was also a very lavish Arabic buffet available in the evenings when Ramadan began in a purpose built, air conditioned tent!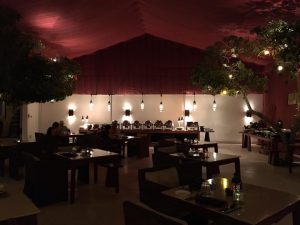 The food in the restaurant was international, and needless to say, both were as good as it is possible to be. The restaurant staff were amazing too, their nationalities were myriad, but each and everyone took great pride in their work, were knowledgable about the food, and the standard of service here too was amazing.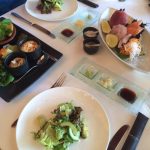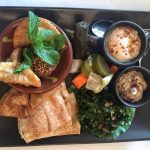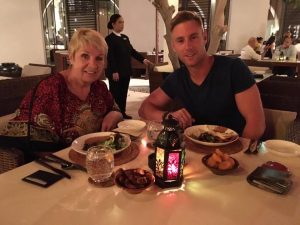 We also sampled the Spa and the Fitness Suite, and as you will have gathered, there was no drop in standards here either. The Fitness Suite was as good as any gym I've attended, and there was a trainer available; tennis courts are also available for those with the energy or inclination to play.  I had a look round the Spa, but didn't have a treatment, though I understand that this too was top class, and the interior certainly lends itself to complete relaxation.
Although the resort has a private beach almost 400 metres long, there are also three swimming pools. Two of these pools are adult only, including the Long Pool, more than 100 metres, which is purported to be the longest swimming pool in the Gulf area. The pools and the beach are furnished with sun beds and umbrellas, and staffed by the most attentive team I have ever come across – towels and water immediately, and the slightest glance around, and someone was there.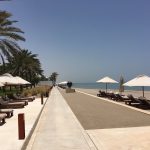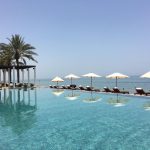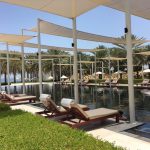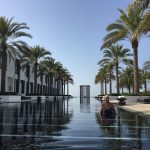 It is a given that glorious situation and buildings at The Chedi are second to none, but what made it so outstandingly special for me was the attention to detail, and the way in which the staff team, without exception, carried this out. They were amazing, someone was always at hand to meet every need, and without fuss or bother. But there was nothing obsequious in any of this service, people took pleasure in doing their job really well, and wanted guests to enjoy their stay. As I say, amazing!
Please follow and like us: