Day One in Quito, Ecuador
I had little or no idea as to what to expect from Quito, other than it was the capital city of Ecuador on the west coast of South America. I had seen on a map that Ecuador is a relatively small country just above, and beside Peru, and below Colombia, and that it was home to part of both the snow-topped Andes mountains and the humid Amazonian rain forest.
Therein lay my first quandary – what to pack? I pride myself on travelling light, and had recently bought a new 40 litre backpack, but on this trip it looked as if I would need clothes for all four seasons! I decided on layers, polus a fleece gilet, and I have to say, I was usually appropriately attired.
My flight into Quito, to the very new Mariscal Sucre International Airport was delayed, but all went very smoothly through baggage collection, immigration and customs, and a very short time after touchdown, around 11.30pm, I met up with my son, Johnny, who had arrived in Quito the previous day from the Galápagos Islands.

The whole Historic Centre of Quito is a World Heritage Site, and even though it was dark when the taxi dropped us off, it was clear out hotel was right in the middle of that Historic Centre. Hotel Casa El Eden is a newly refurbished boutique hotel in an original townhouse right in the middle of the city, and within easy walking distance of most of the city sights.

We set off the next morning fairly early to see as much as possible, in gloriously sunny weather. Quito is the officially the highest capital in the world at2,800 metres, and I have to say the altitude caused me mild breathing difficulties when going up hills or steps, and there were plenty of both!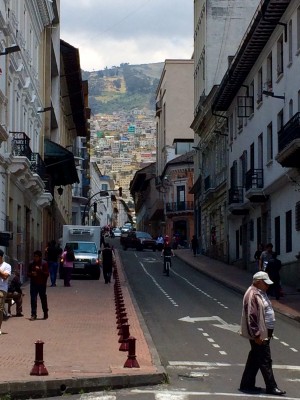 Strolling round the old colonial buildings in the sunshine was a pleasure, and we saw churches galore, many of which were very impressive. We climbed to the top of the clock tower of the gothic Basilica del Voto Nacional, from which there were superb views of the old town.
We also went to El Panecillo which is a hill in the middle of the city, rising to over 3,000 metres and so called because it does resemble a bread roll! Visible from all over the city, on top of the hill, is the aluminium statue of The Virgin of Quito, which stands at 134 feet high. It is possible to walk there via hundreds of steps, but some of the guide books counsel against it for safety reasons, and my lungs and knees objected, so we took a taxi up. The views were amazing!

That first day I also tried the famous, and ubiquitous, empanadas. These are stuffed pastries, pasty shaped, which are fried or baked. The fillings are varied, but I'm afraid I found them very stodgy and hard to digest, and avoided them after that first time.

I saw a lot of Quito on day one, but was happy to have a fairly early night after dinner in a local cafe.
Please follow and like us: