Dream a dream
Stunning blue sea, white sand, beating sun, the wind in your hair – what could be better than this scene?
There are many jaw-dropping destinations in the world, but for one that guarantees rest and relaxation, you'd be hard pushed to beat Langkawi, a stunning Malaysian island.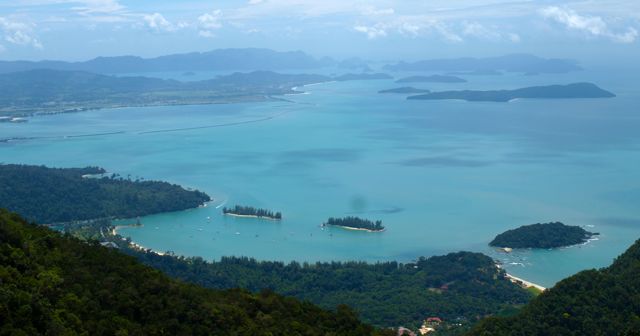 Of course, there is a downside, there usually is, and that is that it does involve a long flight. However, we can get around that, and combat the effects of jet-lag to a degree. I've found that booking a night in one of the hotels with AirportHotels.com goes a long way to helping beat pre-travel tiredness, and has the added bonus of starting my holiday sooner. I often fly from Manchester, and if you're like me, just search hotels Manchester Airport, and you'll be surprised at the range and prices on offer.
A perfect choice for a honeymoon, a romantic getaway or those just wanting a perfect destination to kick back and relax, Langkawi is home to many luxury hotels, begging you to forget all your worries. The north coast is the place to head for the best of the action, with stunning scenery and simply amazing beaches. You might find you have to connect in Kuala Lumpur, which is a fantastic excuse for a two centre holiday. This bustling metropolis is a must visit, with the huge, imposing Petronas Towers and fantastic shopping.
It's then onto your castaway island, and to get around I'd recommend hiring a car if you can. This way, you'll see much more, and there really is some beautiful scenery around the island.
Telaga Tujuh Falls are a must visit in my opinion, to witness the awe of nature, as well as Mount Mat Chinchang, with a cable car up to the top. This is certainly where you need to remember that camera, for stunning views of the whole island on a clear day. Another suggestion is a spot of diving, with colourful, interesting marine life to check out. It's not all about lazing on the beach, but I'd certainly be doing a fair amount of that!
Kuah is a must visit too, with great shopping and local markets. You'll also find lots of restaurants here.
The pace of life when the stars come out is equally as chilled-out as during the day, and it's more about having a delicious meal, a few drinks and good company, and not about all night parties. Hotels will generally have an entertainment programme, but it's more about relaxation. You'll find a great variety of food, with some fresh, delicious flavours. Seafood is great, with giant prawns a must try. Hotels will cater for international tastes, so if you're not into curries and spices, then you'll find something to line your stomach.
For sheer relaxation, stunning scenery and sure-fire memories, Langkawi is the perfect choice. Make your holiday even more luxurious with a night's stay in an airport hotel, such one of the fantastic Gatwick hotels, and you'll be rested, and in the perfect holiday frame of mind before you even take off.
Please follow and like us: