Five free things to do and see on a Cheap Paris Holiday
Paris is a notoriously expensive city to visit, but it's one of those ultimate bucket-list locations. Here are five free things to do in Paris that will make the trip a little more wallet-friendly.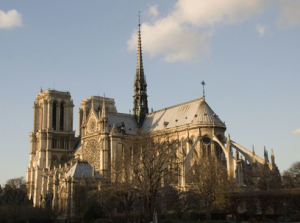 The Louvre
The Louvre isn't usually free to enter, unless you happen to visit on the first Sunday of each month. Make sure you time your visit well because this is an iconic attraction. The Louvre was constructed in the 17th century and has spent life as a fortress, royal palace and now a breathtaking museum.
Parc des Buttes
Some of the loveliest tourist attractions in the world are parks, and they are usually free to enter. Take a stroll around this beautiful park set on a hill in the 19th arrondissement. Favoured by the locals, the Parc des Buttes offers fabulous views over Paris.
Notre-Dame Cathedral
The instantly recognisable landmark of Notre-Dame is free to enter at all times. Widely considered to be one of the world's finest examples of gothic architecture, it truly is spectacular.
Paris-Plages
In the summer months, temporary artificial beaches are created along the banks of the river Seine. The scheme was instigated by Mayor Bertrand Delanoë as a combatant against the stifling heat of the city in summer. Sand, palm trees and beach activities are available and free to all.
Take a walking tour
The best way to get a comprehensive view of the city's finest sights and attractions is on a free walking tour. Sandeman's New Europe free walking tours of Paris take you along the river Seine, through the attractive Latin Quarter and past the Eiffel Tower. Tour groups meet at the fountain on Place St. Michel everyday at 11am and 1pm.
To make your trip to Paris even more affordable, book your flights and accommodation with Beat The Brochure.com.
A view of the breathtaking Notre Dame Cathedral: http://www.flickr.com/photos/scottgunn/327285387/
Please follow and like us: