The Best Luxury Hotels in Lara Beach
Mediterranean destinations are some of the most comfortable and relaxing in the world. The "Turkish Riviera," which includes Turkey's coastline all the way from its land border with Syria to its abrupt turn northwards to front the Aegean Sea, is no exception. One of the most beautiful places in that stretch is around Antalya, and some of its best beaches are found in the luxury area of Lara. Lara has been nicknamed "the Las Vegas of Turkey" because of its myriad of luxury hotels and resorts. Here is our guide to the top 10:
Concorde Deluxe Resort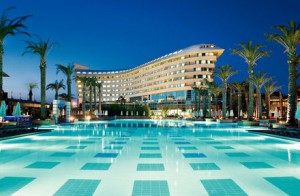 It's built in the shape of a Concorde airplane–what more could you ask for? The Concorde Deluxe Resort is an excellent choice for varied holidays ranging from the supremely relaxing to the fun and active. With three pools, seven restaurants, multiple bars, and a huge list of activities for the whole family, it is pretty much impossible to not enjoy some variety during your stay. The hotel is located right on Lara Beach, offering excellent views. As it was rated on of TripAdvisor's best hotels of 2012, you can be confident that you're signing up for something magical.
Baia Lara Hotel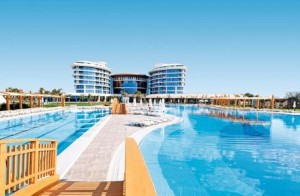 This ultra-modern hotel gets big points for its sleek design and stylish interior, as well as its great sea views. The Baia Lara Hotel is located in the perfect sweet spot, on its own stretch of private beach but still only a kilometer away from the central shops of Lara. It has four pools, one of which has waterslides, and features a Turkish bath that is to die for. Whether you're traveling as a couple or a family, you'll find a warm welcome and more than enough amenities to keep you happy. This is another "best of" on TripAdvisor's 2012 list.
Titanic Deluxe Beach Resort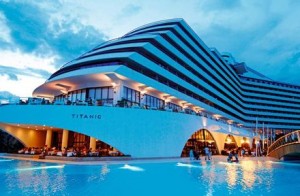 Think of how great the Titanic was before it sank, and you'll have an idea of the luxury of the Titanic Deluxe Beach Resort. Featuring sumptuous rooms, a full Turkish bath, beauty treatments, and massage, this is a place to experience total comfort. It has its own bowling alley and cinema, a shopping mall, and the usual wide range of eating and drinking options. There are also especially good programs for kids. And, to top it all of, the Titanic enjoys one of the best private beaches in the area. This one is tough to beat.
Delphin Diva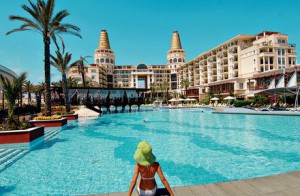 Yet another TripAdvisor pick for "best of 2012" (noticing a trend yet?), the Delphin Diva is known for its wide offering of fun activities for active children and adults. Whether you want to play tennis or learn yoga, you'll find your niche here right along a secluded stretch of beach not far from the center of Lara. The architecture and room style is also impressive here, making it a great all around pick. For those that want more adventure and culture, there is a bus stop with service to Antalya and beyond just 500 m from the front door of the resort.
WOW Kremlin Palace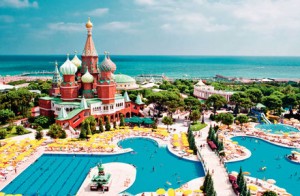 Wow. Pictures do this place better justice than words. If it wasn't already apparent, the WOW Kremlin Palace is built to recreate a little piece of Russian real estate. Its unique design isn't the only draw though. For couples and families that want to try out scuba diving, this is a great place to stay, as safe and exciting trips are offered frequently. There are also billiards, bowling, a Turkish bath, and the usual assortment of pools and restaurants sure to keep you busy. The towers of the Kremlin are lit up at night, making this a fun and attractive choice.
Royal Wings Hotel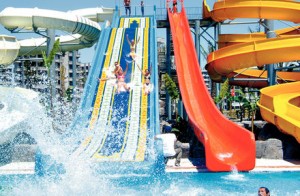 With a particular emphasis on watersports and activities, the Royal Wings Hotel is a perfect choice for active couples and families. Between the sublimely relaxing "lazy river" float, the legitimately intimidating Phantom slide, and the variety of the other slides, you will certainly have fun one way or the other. The resort overlooks the beach.
Delphin Imperial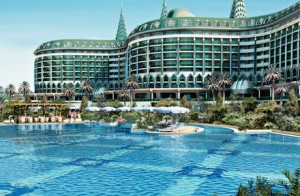 This brand new hotel, just opened in May 2012, sets a new standard for luxury. The Delphin Imperial has perhaps the widest range of offerings on this list, making it the absolute in full-service deluxe accommodation. Start with the full waterpark, with slides designed for adults as well as kids. Move on to the motorized watersports, scuba diving, tennis, bowling, boccia, billiards, extensive spa, and disco. Did we mention that there are nine bars, and eight restaurants, with food from all around the world? This resort also does an excellent job of being inclusive of families while giving those trying to escape children plenty of private space and adults-only areas. Highly recommended.
Modeling some of the unique architecture of the famous Ottoman palace in Istanbul, the WOW Topkapi Palace boasts another impressive waterpark in addition to its elegant gardens, luxurious rooms, and activities like waterskiing, mini-football, video games, and sailing course. Take advantage of the six restaurants and various snack and drink bars as well, and you'll come to see just how deluxe an all-inclusive resort can be.
Royal Holiday Palace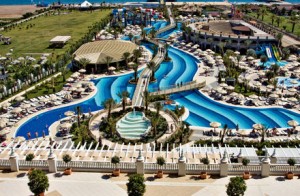 A sister property to the above Royal Wings resort, the Royal Holiday Palace does an excellent job of making you feel like just that–royalty. The attentive staff, sumptuous accommodation, multitude of dining options, and location overlooking beautiful Lara beach will leave you wishing your holiday was longer, or just coming back again year after year. Take tennis lessons, go bowling, or just lounge around the immense freeform pool that seems to extend endlessly around the grounds of the resort.
IC Hotel Green Palace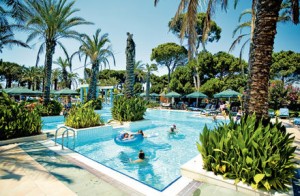 Every once in a while you find a blissful spot hidden away that doesn't get nearly as much attention as it deserves. The IC Hotel Green Palace has one of the most sublime spas in the area, and treatments here will leave you immensely satisfied. The resort has a Balinese style and appearance, with lush vegetation and five swimming pools. This is the ultimate destination for relaxation and recuperation from life's stresses. Definitely check it out.
With so many options to choose from in Lara, you may find yourself needing to come back for a second (or third, or fourth…) visit. There's nothing wrong with this! You've discovered one of the best holiday spots in all of the Mediterranean, and you deserve to enjoy it. These hotels are a great place to start.
Please follow and like us: