Gozo
One of the receptionists in the hotel in which I was staying in Valletta strongly advised a visit to Gozo, and how right he was!
It was so easy to get there; I got a local bus from the centre of Valletta ,  just over an hour,  to the ferry port of Cirkewwa, and from here got the ferry to Gozo.  It goes to Mgarr harbour on Gozo, and from there I took one of the open top 'hop on hop off' buses. The actual bus journey only takes 45 minutes, but it is worth getting off at at least some of the stops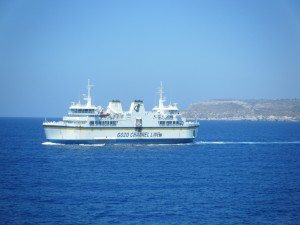 Personally, I didn't get off at Xaghra Windmill. (I figured one windmill tends to be the same as any other!).  But I did get off at Calypso's Cave.  It is allegedly referred to by Homer in his 'Odyssey', and, apparently, is the spot where the nymph Calypso kept Odysseus!  However, it's a cave at the end of the day, and as for the rest, well, that's up to you!
Onwards to Marsalforn Bay, the most popular tourist resort on Gozo. For me it was exactly that – a tourist resort with some interesting places to swim. Regular visitors will know this is not exactly something that floats my boat, so I moved on!
The next stop was much more intriguing – Victoria, capital of Gozo. It has a long history, dating back to 1500BC, but was later developed by the Phoenicians and then the Romans. The Baroque cathedral , allegedly built on the site of of a Roman temple dedicated to Juno, is worth a visit, if only for its trompe l'oeil ceiling.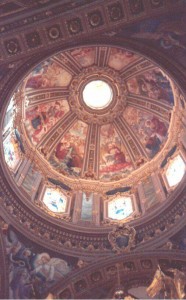 A wander round the town/city makes for an interesting stroll because there are many attractions. There is evidence of the 17th century siege of the town, and also of the French and English occupations.
After Victoria comes the Bascilica of Ta' Pinu where the Virgin Mary allegedly spoke to a local woman in 1883.
The Craft Village is the next stop on the bus, and whether or not you alight here depends how you feel about such stops. Suffice to say, it was not for me, so I am unable to report on it.
I stayed on the bus until the next stop – the Azure Window, a World Heritage site. Wow! For me, this is a must see. It is a 50 metre high rock with an arch in some cliffs, through which, because of the light, the sea is bright azure in colour. It has featured in a number of films, and no wonder – it is awesome.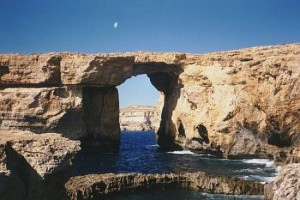 It is possible to take a boat trip out to see the window, and I would suggest that this is well worth the price. Try to see it, because apparently bits of rock are falling off, and the window disintegrating – it may disappear in the foreseeable furniture.
I also stopped at the Ggantija Temples – another wow! This is a megalithic complex built between around 3600 – 3000BC. It was initially cleared by convicts in 1820, and graffiti evidence of their work can still be seen. The site is astonishing, and  I find the durability of such places quite amazing.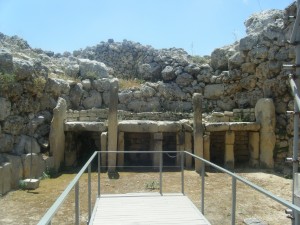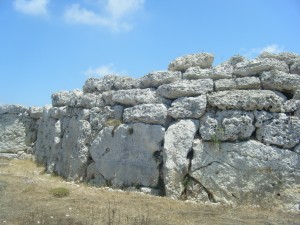 The bus returns to Mgarr via Ramla beach, but for me , a beach paled after the sights I had seen.
Most people who visit Malta ignore Gozo, and what a mistake this is. It is fascinating, and my only regret is that I  had just a day to visit, though I have promised myself that I will return.
Please follow and like us: