Holiday in St. Ives
Looking for a nice relaxing place to take holiday? Whether you're looking to go by yourself, with your family, or with a friend, if relaxation is your goal then St. Ives may be the best place for you. It is one of the most Western mainland points in England. It is home to an incredible coastal line with cliffs and views that can keep a person happy for the duration of their stay. If you're looking for a self catering St. Ives holiday, here is a quick list of some of the things you can do while there.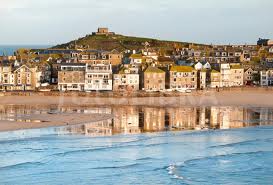 The Eden Project
This may be one of the most interesting experiences you will ever have. The Eden Project is aptly named because it sets to create a kind of heaven on earth in the form of two extremely large greenhouses. One of the geodesic conservatories is rainforest that you can explore. The other is home to fruits, plants, and flowers from the Mediterranean, South Africa, and California. They made a real effort to include most of the world! The outside grounds are manicured to be just as impressive as the conservatories themselves. This is horticulture at its finest.
The Minack Theatre
Are you a fan of live performances? If so then this will be one of your favorite theaters. Even if the performing arts aren't one of your main interests, you will still enjoy this experience. A short trip from St. Ives, this open air theatre is in Porthcurno. It is situated on a cliff and as the performance takes place you have a stunning view of the ocean. It is quite serene and truly unforgettable. Shows run nightly and there are some matinee shows.
Land's End
Close to the Minack Theatre is Land's End. This is the western most point in England. There are shops and restaurants in the area that are great for travelers. Standing on the rocks, you can look out into the ocean and see Longships Lighthouse, Wolf Rock, and the Isle of Scilly in the far distance. Great views always contribute to a great holiday.
Coasteering
For the more adventurous, go coasteering. This is fast growing in popularity in Cornwall and England alike. This is an adventure activity that combines, climbing, cliff jumping, swimming, and hiking to explore the coastline in a unique way. Your guides will take you to untouched cliffs and hidden coves that are sure to give you a coastal experience that not many others have had. You can get a St. Ives apartment right near the cliffs, so maybe you could go coasteering right in your backyard!
Walk the Coast
There is a coastal path that runs all the way through Cornwall. Find its point in St. Ives and take off. This is a beautiful and relaxing way to truly enjoy the place you're staying. Be careful of the rocks, steep portions of the walk, and the crashing waves. While all add to the ambience of the walk, they should also make you a bit cautious. Find a nice place to sit in the evening and enjoy the sun set. You're sure to not see one like it again.
Please follow and like us: