Holidays in the Arctic Circle
Looking for something totally unique for your next holiday? Try going north rather than south. Scandinavia has a wealth of activities that can make the most memorable vacation ever, some of which are impossible anywhere else in the world. Reputable companies like The White Circle can arrange all-inclusive tours that include some or all of these top recommendations for someone brave and adventurous enough to tackle the great northern expanses: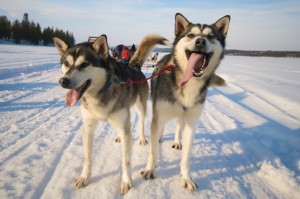 1. Dog sledding
There is no better way to get close to nature than on a traditional Sami-style dogsled being pulled by a team of exuberant huskies. The excitement, natural beauty, and sense of companionship between human and animal are unparalleled and unforgettable. Trips can be as long or short as you like, but we recommend opting for a longer one in order to get deeper into the wilderness and to learn the names and personalities of your faithful canine comrades.
2. The Northern Lights
Majestic swaths of color that shimmer and move across the sky—the aurora borealis is a surreal thing to observe. For many visitors to this region, seeing the northern lights is the main attraction. While science has partially explained the phenomenon (it is caused by the collision of charged particles and atoms in the upper atmosphere), much about it is still unknown, and watching the sky fill with color above you is a humbling and awe-inspiring experience.
3. IceHotel
Located in Jukkasjarvi, Sweden, the original Ice Hotel is a bizarre but fantastic place. Sculpted each year out of real ice collected in a nearby river, the hotel consists of "warm" (normal) and "cold" (totally insane) rooms. The cold rooms are made entirely out of decoratively carved ice, and guests that choose to stay in them are given warm reindeer furs and sleeping bags to insulate themselves with. A spa and sauna is on site to help you thaw out. Verdict? Weird, but special and worth doing.
4. Snowmobiling
If you want some more adrenaline injected into your holiday, consider a snowmobiling adventure. These powerful machines are undeniably fun to navigate across the expansive landscapes of Scandinavia, and require very little training to operate safely. Passing through forests, over frozen lakes, and up hills too steep for sled dogs, your tour will give you a chance to access a wide range of natural places and really appreciate the beauty of the region.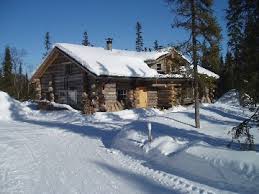 5. Log Cabin stay
For some, the simple things are best. Relaxing in a traditional-style log cabin with a warm bed that is not made out of ice, sitting by the fire, and stepping watching the snow accumulate on the windows are all undeniably simple and wonderful pleasures. You'll also have a comfortable base of operations from which you can go engage in the rest of these activities. This is an especially popular option around the holidays.
Winter sounds a lot more inviting when you have activities like these to look forward to!
Please follow and like us: