Kiraly Medicinal Baths, Budapest
This was a first for me because I had never been to a medicinal spa before, but as they say, 'when in Rome do as the Romans do', and visiting a medicinal spa is apparently a way of life in Budapest.
The outside appearance of the baths is quite unprepossessing, in fact it would be quite easy to miss it altogether. It is on the Buda side of the river Danube, but within easy walking distance of the Metro.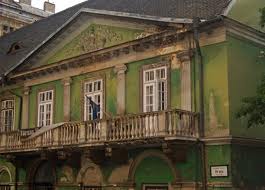 I opted for the baths and massage package, and this cost 4,800Ft (approx. £14, €16 or $20), and for that money, quite amazing value.
Apparently the baths were formerly segregated on a gender basis, and swimsuits were 'de trop', but now both with both genders allowed at all times, swimsuits are 'de rigeur.' My advice would be to come prepared and bring your own, and your own towel, because I'm told while it may be possible to hire them, you might might not want to!
Kiraly baths were first built in 1566by the Turks, and continue to be enjoyed in a similar vein to this day. Apart from electricity, there is little evidence of modernisation.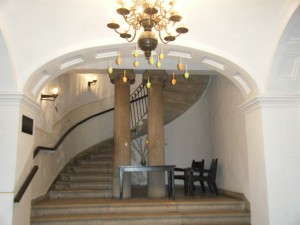 After paying admission, I climbed a stone, spiral staircase, and after going through a door, arrived in a space where I was greeted by a staff member dressed in white who showed me to a changing cubicle, and when I came out, directed me to remember the number on the door, and pointed to a corridor along which there was duck boarding on the floor preventing people from slipping. I followed others ( the signs are mostly in Hungarian), descended another flight so stairs and arrived in an area where there were notices (this time in a number of languages) to have a shower before entering the thermal pool.
I followed instructions, and then made my way to the main thermal pool – it was awesome! The temperature remains at at constant 36 degrees, and thus steam is rising. The ceiling is domed with little portholes of light shining through, and there are plunge pools, cold showers, drinking fountains and a steam room all adjacent.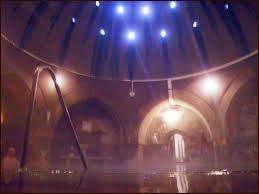 The pool is probably 10 – 15 meters in diameter, and there are a couple of steep steps at the edges, plus a small fountain which people appeared to be queuing up to experience. I had read that the air is foul because of the sulphur, but I have to say I did not find it unpleasant, although I must admit, the thought of drinking it was a step too far!
The clientele was as wide as is possible, but predominantly older. There were what appeared to be octogenarians, male and female, in their speedos and tiny bikinis, but those a bit younger (70 and under!) were a bit more circumspect in one pieces and swim shorts.
The pool appeared to be a sociable place, and I found many locals very encouraging, even though we communicated largely through sign language.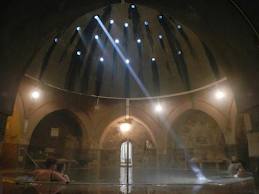 My massage time had been designated as an hour after I entered the building, and at that time I duly went along to the massage room. I was asked to strip completely, and was a bit disconcerted, both by this and because my masseuse was very small and looked quite fragile. How wrong I was! She had hands of iron and fingers of steel! I frequently winced, but it was a massage second to none. If my muscles were knotted when I went in, they were certainly untangled by the time I left. I felt utterly relaxed and rejuvenated.
I have read a few negative reviews about Kiraly, but this is a spa as the locals like it. There are few concessions made to those who want their experience sanitised within an inch of its life because this is what has worked for centuries, and obviously the locals feel 'if it ain't broke, why fix it?'.
As you may be able to tell, I'm converted and have every intention of returning to Kiraly before I leave Hungary.
Please follow and like us: