Off to Melbourne for the tennis
It goes without saying that this is the perfect time of year to visit Australia if you have the opportunity. Many of us retirees have exactly that opportunity and for those of us who also love the tennis – then a trip to the Australian Open in Melbourne is a wonderful way to kill two birds with one stone – whilst simultaneously avoiding the very worst that the Northern Hemisphere's weather can throw at us.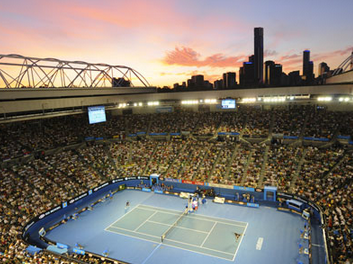 Melbourne is a fantastic city to visit and is by far the most European feeling of all Australia's major cities. It has a real olde-worlde feel about it and is full of seemingly endless fascinating nooks and crannies and undiscovered corners. You could keep coming back here for many years and always discover something new.
It's also just a little cooler than Sydney and Brisbane, which makes it ideal for the tennis – and which makes the climate generally ideal at this time of year.
The Australian Open is the first Grand Slam tournament each year and the 2014 event will be held between the 13th and the 26th of January.
The upcoming tournament will be a particularly fascinating one this time in the men's side of the draw. Last year's winner Novak Djokovic is the current favourite to retain his title, but a resurgent Rafael Nadal may well have other ideas. Nadal, you may remember, overcame Djokovic in the final of the U.S. Open. Meanwhile, last year's runner-up in Melbourne and Wimbledon Champion (who also defeated Djokovic for that title) is a strong contender.
At the moment, the odds with Betfair, the world's largest gambling exchange, suggest a three-way race between the afore-mentioned three. There's then a gap in the market to Roger Federer and Martin del Potro, each around the 15-1 mark with Betfair at the time of writing – and a tennis wager can certainly be a lot of fun.
But if you're travelling to Aus' and don't have a lot of interest in the tennis (or the Ashes of course) then it doesn't really matter; January is still the perfect time of year to visit for so many different reasons – and Melbourne is surely the fairest city of all cities Down-under?
Please follow and like us: