Solo sightseeing in Barcelona
When people think of visiting Spain they often expect the capital, Madrid, to be the highlight of their trip. Certainly Madrid is impressive and has the fabulous Museo del Prado, however, it has a fascinating rival in Barcelona, the capital of Catalonia and the second largest city. Barcelona is less crowded than Madrid, has a wealth of interesting and important sights and is a safe, welcoming destination for lone travelers.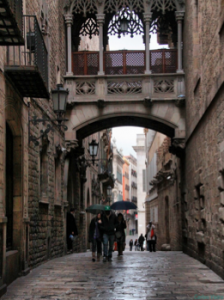 World heritage sites 
UNESCO has declared an amazing number of buildings, monuments and important historical sites in Barcelona as World Heritage Sites. These include the amazing architectural garden complex with fabulous buildings and colonnaded pathways at Park Güell, designed by Catalan architect Anton Gaudí and dating from 1900. Gaudí was also responsible for the iconic Sagrada Família – the stunning, ornate basilica that has become the international symbol for Barcelona.
Besides the many monuments and buildings, visitors will enjoy a stroll along Barcelona's popular thoroughfare, La Rambla, which is a pleasant pedestrian mall lined with trees that runs for three quarters of a mile between Barri Gòtic, the Gothic Quarter in the old city center of Barcelona, and El Raval, which is another historical neighborhood with a diverse migrant community. El Raval was a somewhat seedy part of town for many years but has recently undergone a transformation; nowadays its many bars, nightclubs and restaurants are attractive to tourists and locals alike.
Cultural attractions
La Rambla is home to many cultural institutions, and attracts mime artists and street performers daily. Here is Barcelona's famous opera house, known locally as Liceu, and the Font de Canaletes, a popular meeting point and the most famous fountain in the city. Elsewhere, museums abound in this bilingual metropolis as both Spanish and Catalan cultural heritage is on display. The National Museum of Art of Catalonia with its collection of Romanesque arts complements the Barcelona Museum of Contemporary Art (post 1945) and both are well worth a visit.
There are plenty of theaters and concert halls for lovers of music and drama, and besides classical concerts featuring orchestral music, Barcelona is home to two pop festivals every year and has a thriving popular music scene.
Traveling in Barcelona
The Barcelona-El Prat airport is about 11 miles from downtown Barcelona and is served by several major international airlines, including Lufthansa. Some budget airlines actually take passengers to the smaller Girona-Costa Brava Airport, which is 56 miles north of the city – so it's worth checking where a flight is landing when booking. There is a good bus service from Barcelona-El Prat and the public transportation system within the city is also excellent, with a hop on, hop off bus service that lets visitors see different parts of the city in their own time.
The buses, subway and trams take locals as well as tourists to the many colorful street markets and charming restaurants that give Barcelona its special character. Food is a major part of Spanish and Catalan culture – try eating at one of the tempting restaurants at the Boqueria Market, or shop for some food to go and take a picnic to one of Barcelona's fabulous beaches.
Please follow and like us: