Top 5 Free Things to Do in Perth
Perth is a fantastic city. Often overlooked by its counter parts in the East, Perth should not be something you skip while visiting Australia. There are not only great things to see and do, but there are great free things to see and do. Yes that's right. Free. There is no better holiday than one that runs you as least as possible. At least when you're on budget! So take a quick look and I'm sure that you'll be hooked.
Swim with Some Animals
If you take a trip just south of Perth, you'll find Shoalwater Marine Park. Here they have penguins, sea lions, and dolphins that enjoy waters. The coolest part is that you can too. All you need to do is grab your gear to take a dive and the water will be your playground. In addition to some of the friendly creatures you may see, you also might come upon a shipwreck or some beautiful reefs. This is definitely something to checkout.
The Cultural Center
Right in the middle of the city is the Cultural Center. This is where you can treat yourself to the likes of the Perth Institute of Contemporary Arts, the Perth Art Gallery, Perth Museum, and the State Library. These are enough activities to take up an entire weekend for no money at all, well just one gold coin as a donation. The centers regularly host exhibits and these often change making this the perfect place to go all year round.
Catch a Sunset
Take a load off and relax on the Western Coast to watch a sunset. This is one of the best ways to spend a lazy and relaxed day. One great place to catch a sunset is on Cottesloe beach. Grab some food or some drink and just enjoy the beauty.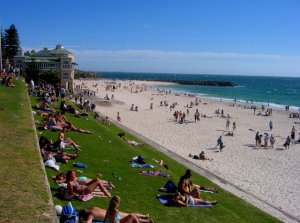 Tour Swan Valley
This wine region of Australia has been growing on the international scene. Swan Valley is the perfect place to go for anyone who enjoys a nice glass of red or white. Many of the wineries are not just nearby each other, but all offer free samples of select wines. I don't know if there is anything better than drinking good wine all day at no cost. That is unless you decide to bring a bottle home, go ahead, no one will judge you.
Fish in the Peel Inlet
If you've ever wanted to try truly fending for yourself one night for a meal, start your day at the Peel Inlet. This estuary is rich with prawns and crabs for most of the year. You can either sit on the dock or take out a boat. Wherever you choose, there's a pretty solid chance you'll be catching dinner.
Perth has even more to offer than this. For an extended stay look into some property to rent in Australia. Check here for some more information.
Please follow and like us: