Top 5 places to picnic in Tenerife
There's nothing quite like packing up a picnic and setting out to find the perfect spot to sit down al-fresco and enjoy your food. If you're planning to book flights to Tenerife this summer, make sure you take advantage of the island's stunning natural landscapes and delicious local cuisine by heading out on a couple of picnics during your stay.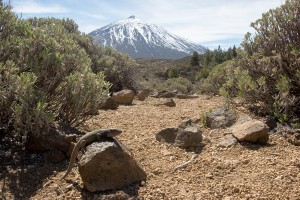 We've come up with a list of five places in Tenerife that are perfect for an outdoor lunch, but first we're going to take a look at some of the delicacies you can stash in your picnic basket. Many fresh fruits and vegetables are grown on the isle, so pay a visit to a local farmers' market to pick up some fresh supplies to start with.
For a picnic, you want to keep things simple, so it's best to prepare a basic salad, take a tasty dressing, some fresh bread and some local cheese – this is typically made with goats' milk and it comes in many forms, including smoked, cured and soft. Another Canary Island staple you could take with you is papas arugadas (or wrinkly potatoes) with a mojo dipping sauce. These are small potatoes that are boiled with sea salt, while the mojo sauce is either made with sweet and hot peppers (the red variety) or parsley, coriander and garlic (the green variety).
So, you've packed your picnic basket (don't forget a bottle of the local wine if you want to make it a romantic afternoon with your partner) and now you need to find the perfect spot to lie down your blanket – here are our top five picks.
El Bollullo
El Bollullo is one of Tenerife's most picturesque volcanic beaches. It's located in the north of the island in the El Rincon area. You need to drive to the nearby car park and then set out on foot (walking through banana plantations) to reach the beach. There aren't any facilities here (so you'll be glad of your picnic), but the scenery is stunning and there's a wonderfully peaceful atmosphere.
Punta de Teno
Punta de Teno is the most westerly point of Tenerife and is in the Teno Rural Park. You'll struggle to find more spectacular views than the ones you have here, as you can see the amazing Gigantes Cliffs from this vantage point. These sheer rock faces plunge some 600 m down into the sea, which is an incredible sight. Spread out your picnic blanket next to the old lighthouse, tuck into your food and enjoy the view.
Parque del Drago
Situated in the town of Icod de los Vinos, Parque del Drago has become something of a landmark in Tenerife due to its 800 year old dragon tree, which is the centrepiece of the square and an impressive 16 m high. Surrounding the tree is a garden full of endemic flora, so choose a quiet spot, sit back and enjoy your picnic.
Anaga Rural Park
The Anaga Rural Park is a vast protected area that is home to beautiful laurel forests and is a delight to explore on foot. Take a picnic with you if you're planning a day of hiking here and you can seek out the perfect dining spot. If you follow a trail along a ridge in the Anaga Mountains, for instance, you'll find numerous places where you have excellent views of the forested valleys and the rugged coastline.
Teide National Park
Last, but certainly not least, is Teide National Park, which is home to the famous volcano of the same name. There are a host of routes you can follow in the reserve, each of which will undoubtedly have its own fantastic picnic spots. If you're approaching Teide from La Orotava, however, you'll pass a couple of dedicated picnic and BBQ places, so you could pack some burgers or sausages and cook up a storm in this picturesque setting.
Please follow and like us: