Hotel Savic, Prague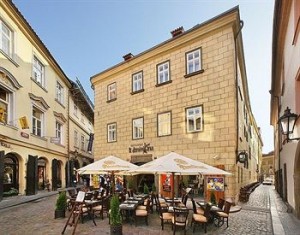 Hotel Savic is right in the middle of old Prague – so much so that virtually very sight worth seeing is within walking, or even strolling, distance.
From the outside, Hotel Savic is not immediately striking, largely because it has been developed in sympathy with the old building it obviously once was.  However, inside it is very impressive.  The Bohemian glass chandeliers and lamps are amazing, and are everywhere in the hotel, in the rooms as well as the public areas.  No expense appears to have been spared with the little things – the numerous glass doors are all automatic, the lifts are silent and and as smooth as glass.  Incidentally, the lifts can only be operated using the room key card, which is reassuring from a security point.
The siting of the rooms is also part of the sympathetic restoration, in that there are no long corridors with rooms at either side – the rooms  are all over the place, with central meeting and seating areas  on each floor, again with the glorious lighting.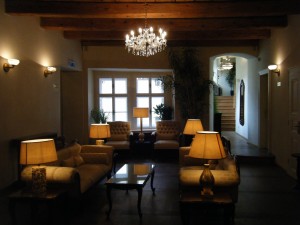 The lighting is continued in the actual rooms, glass table and floor lamps, and another awesome chandelier, and there are lots of plug sockets and wifi in the rooms.
The decorating scheme in the public areas is continued in the rooms.  There are parquet floors and dark wood (possibly mahogany) and enormously restful cream shades in the colour scheme.  The rooms are quite big – enough room for desks, side tables a wardrobe and a chaise longue  without being cramped.
The bathroom is small, but perfectly formed.  Again the decor is excellent, and in unobtrusive colours.  The shower is hot and powerful, and, most impressively for me, the toiletries are from L'Occitaine.  Unfortunately though, apart from the replacement of towels, housekeeping in the room was a little short of that expected of a hotel  that otherwise could have five star aspirations.  One example of this is the fact that used toiletries were not renewed in three days.
Breakfast was held in a paurpose-built conservatory area on the ground floor, an small area of which the designers appear to have made excellent use?  As is usual nowadays, it is a serve yourself buffet, with staff on hand to serve hot drinks and to clear up, and the usual hot and cold continental fare was served.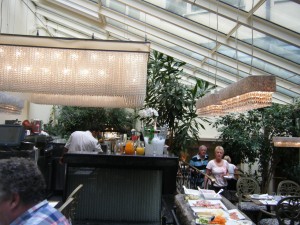 Prague itself is such a beautiful city, and with the Hotel Savic as a luxury base, it could be an unforgettable break.
Please follow and like us: