Paris: 3 Must Do Things
Paris is one of the best cities that I have ever visited, it is the perfect place for a romantic city break. There is so much to see and do there I am sure that you will never get bored or find yourself struggling to fill your days. One of the best things about Paris is that it is so easy to get there, if you hop onboard the eurostar train you can be there in just a couple of hours! So there really is no excuse for you not to be planning a weekend away to the French capital. Whether you are gong on holiday with your family, friends or that special person, Paris has something for everyone. Once you have booked your ticket its time to think about what you are going to do when you arrive, if you are going on a short break it is always a good idea to have plan. Here is a list of 5 things that I think everyone should see when they head over to Paris.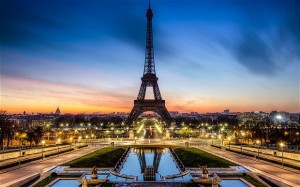 The Eiffel Tower
Ok, so this is quite an obvious choice but you have to visit the Eiffel Tower, it would be a crime to go all the way to Paris and not visit one of the most famous landmarks in the world. You will of course see the tower many times during your trip because it is visible from most places, but don't just look at it make sure that you go up to the top. There are queues and you do have to pay to enter, but the views you get of Paris are stunning. It doesn't matter which level you are on because the view will be fantastic.
The Louvre
The Louvre is arguably the most important museum in the world, inside you will thousands of priceless pieces of art from the modern era and the past. The museum has often been called 'the jewel in the crown of French culture' with it being billed as that it really is a must visit.
The Arc de Triomphe
Even if you never been to Paris you will surely recognise this iconic structure. It is always used during big processions and celebrations in Paris, it was built by Napoleon to celebrate victorious soldiers returning after battle. I was blown away the first time that I visited, at night it looks absolutely stunning.
If you are thinking about taking a trip outside of Paris for the day or longer then the best option for you is to travel with TGV, with these guys you will find the best prices for rail travel.
Please follow and like us: