Take it easy (or not) in Turkey
Sometimes it's great to head off for a week in the sun – without any pretence to going sightseeing while you're there.
Of course, there are thousands of resorts that you can do this at, but a particular favourite of mine is the Dalaman coast of Turkey.
The Holiday Village Turkey at Sarigerme, has everything you'd need for a week's relaxation by the pool and beach. In fact, here there are several swimming pools to choose from, including one with slides and one with Jacuzzis. There's also an indoor pool. You can walk to the beach straight from your hotel room, and the hotel supplies sunbeds and umbrellas.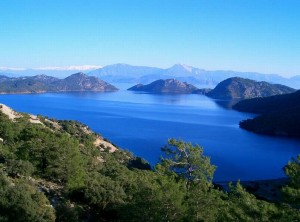 You can get involved in all kinds of activities while you're there, including archery, canoeing, diving and aero ball (a mix of trampolining and basketball). But if you're not feeling energetic at all, you can book in for a massage at the onsite spa, or have beauty treatments and a Turkish bath as well as getting your hair done.
Sarigerme is a small town which is pleasant to wander around; there are a few shops and bars there. If you're looking for a busier urban centre, take a taxi to Ortaca, 16km away.
There's plenty of in-house entertainment at the holiday village; you really can stay put for the whole holiday without running out of things to do, but if you do tire of contemplating your navel and watching your suntan deepen, there are plenty of things to do and see in the area.
Highlights include the Butterfly Valley in Fethiye. You can only reach it by boat or by the Lycian Way hiking trail. The site is protected as more than 30 butterfly species come here during the breeding season – June to September. There's also the historic site of Kaunos, overlooking Dalyan. This site dates back to 3000BC and you can see the ruins of an amphitheatre and temples as well as Lycian rock tombs here.
Whether you go to Sarigerme for an indulgent week at the spa, or a frenzied week of sports and activities, you're sure to enjoy yourself.
Please follow and like us: